For the second time this week I have drawn the 6 of Pentacles, which means the first four days of Lent have oscillated between Cups and the 6 of Pentacles, water-earth-water-earth. The week began in the Upper Arcana with (2) The High Priestess on Sunday and (9) The Hermit on Monday, with the 3 of Rods marking the end of the carnival season on Shrove Tuesday. With the beginning of Lent on Ash Wednesday there was a change in the Arcana of the Liturgical Year. (18) The Shrovetide Moon was replaced by (8) The Lenten Hermit while (6) The Lovers remains and (15) The Devil is placed in the middle and to the fore, confronting and challenging the postulant.
Here is the blog post for Thursday 7th March when the 6 of Pentacles first appeared.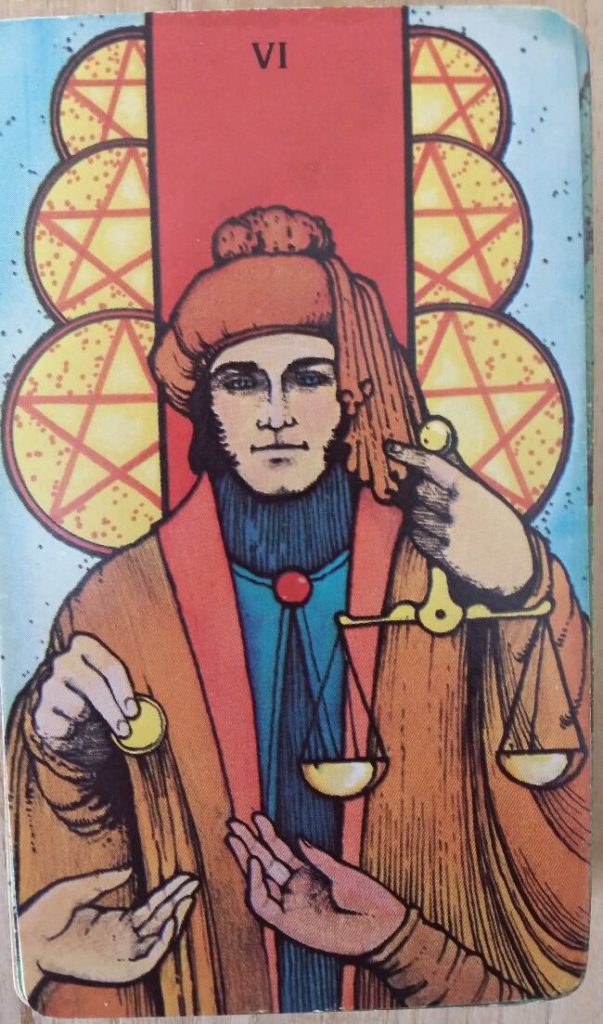 Today was quite a different day than Thursday, although, like Thursday, I was out all day engaging with students, my Saturday students are all of riper years.
Where to Place My Resources…
In considering where I was placing my resources today, there were five divisions of the day, after I left home in the morning; my morning community centre class, lunch time, my afternoon English grammar with coffee class, a chess coaching session, and an evening party. When it comes to the allocating of resources, as a teacher, I have to make sure I am paying attention to the needs of the students, but that is "par for the course" for me.
It was during the lunch break that I paid attention to my resources of cash and time. My goal today was to spend no more than I earned, and to do that, I needed to go easy on my lunch. No okonomiyaki and beer for me this lunchtime! So instead, I bought a pack of sandwiches from Family Mart and consumed them along with a flask of coffee sitting on a park bench. With time on my hands, I walked three stops up the tramline, perused the shelves of an up-market supermarket, and then strolled back down the line to my class.
That economy gave me a free reign to indulge in some beer and wine and dinner together with my student during the chess coaching session, and also during the evening party.
Note: I mentioned on Ash Wednesday that,
I usually give up drinking alcohol at home… 😉
The charitable merchant depicted in the 6 of Pentacles kindly distributed a penny or two for the consumption of some nappy ale out of doors on Saturday afternoon and evening; putting me in touch with my earthly desires through several "cups" of liquid with, I trust, the blessing of the (2) High Priestess who initiated the first miracle at the marriage of (6) The Lovers of Cana.