Let charitas be the beginning of that which you seek to manifest; that is the first initiation the (0) Fool has to pass through on his quest for wisdom through the 21 houses of the Upper Arcana during the Trinity season; and he learns it at the house of the (1) Magician, which is presided over by Mercury, the messenger god of the pathways and also of eloquence and of games and tricks, who is also known as Hermes. Thus, the (0) Fool's journey is one of hermetic initiation, dispelling (like Mercury in Botticelli's Primavera) the clouds of ignorance so that the light of the celestial Sun might shine upon him, "as above, so below," or "in earth as it is in heaven" as the paternoster expresses it. In the house of the (1) Magician the (0) Fool will learn the arts of visualization and of manifestation, and the mastery of the elements. If those lessons are successfully assimilated, the (0) Fool will be awakened into a new life in which the horizontal and the vertical planes intersect in his heart where the Rose we see beneath him and the Magician begins to blossom.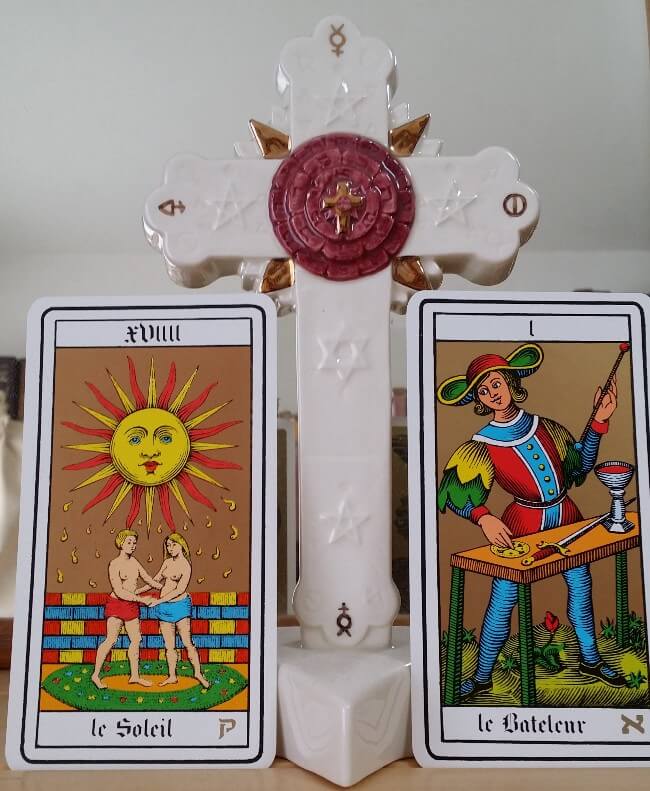 The Collect
O God, the strength of all them that put their trust in thee, mercifully accept our prayers; and because through the weakness of our mortal nature we can do no good thing without thee, grant us the help of thy grace that in keeping of thy commandments we may please thee both in will and deed; through Jesus Christ our Lord. Amen.

Book of Common Prayer
Old Testament Reading
Thou wilt keep him in perfect peace, whose mind is stayed on thee: because he trusteth in thee.

Isaiah 26: 3
New Testament Reading
God is love; and he that dwelleth in love dwelleth in God, and God in him. Herein is our love made perfect, that we may have boldness in the day of judgment; because as he is, so are we in this world.

1 John 4: 16-18
Liturgical Affirmation
Ego sum lux mundi.

Sic est omnis, qui natus est ex spiritu.

I am the light of the world. So is every one that is born of the spirit.