The 4 of Cups reminds us on the first day of Lent that we are entering a season of contemplation. In this video, Trevor Thorkelson refers to the 4 of Cups as suggesting a time to take an emotional inventory:

Like (9) The Hermit, who is the Lenten Arcana of the Liturgical Year, the figure in the 4 of Cups has withdrawn from the world of affairs. Wrapped in the cloak of humility, (9) The Lenten Hermit retreats into the wilderness. The figure in the 4 of Cups retreats into nature, a sort of "green man" who at one with the wild wood and is passively contemplating the scene before him and feeling the approaching spring germinating within and around him.
The Morgan-Greer 4 of Cups
In the Morgan-Greer depiction, the figure has three full cups but is looking across them at another cup that is being offered to him by a hand out of a cloud.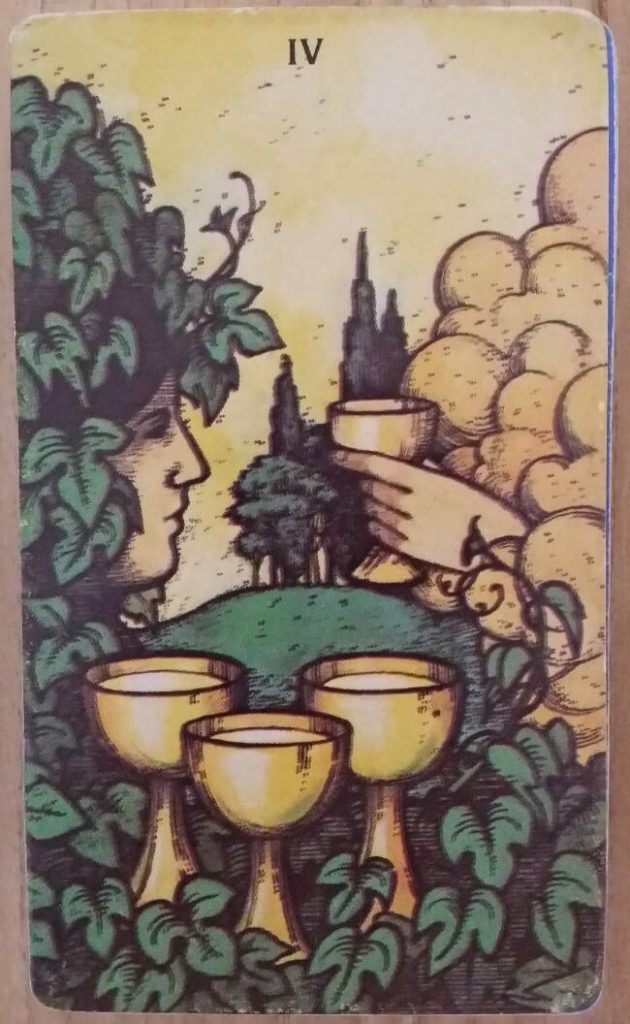 The cups on the ground are full and remind us of the blessings that are manifested in our lives and suggested by the 3 of Cups. So in taking inventory of our emotions during Lent in 2019 we might ask ourselves "how do I feel now" and develop a sense of gratitude for what is given to us here and now.
At the same time, we refrain from taking everything that is on offer. We give up something pleasant that remains "on offer" and before our eyes. In so doing we train ourselves to some degree to resist the Devil and his pomps. (The Devil is the Ash Wednesday Arcana of the Liturgical Year.)
In my case, I usually give up drinking alcohol at home. Alcohol is still there, "before my eyes" on the shelves of our local supermarket and convenience stores, but I walk past them on my way home and will refrain from popping in. Three cups of tea will do instead!