When the (16) Tower follows the (0) Fool reversed our meditation ought to be upon the destructive consequences of folly. It may be that you have actually done something foolish this week and now realize what it was. If that is so, it is as if you have been thrown like the headlong (0) Fool out of the (16) Tower of your old and false beliefs, habits or structures of thought.
Painful as that may be, it can also be beneficial, just as the demolition of old and structurally unsound buildings serves as the prelude to reconstruction on sounder principles.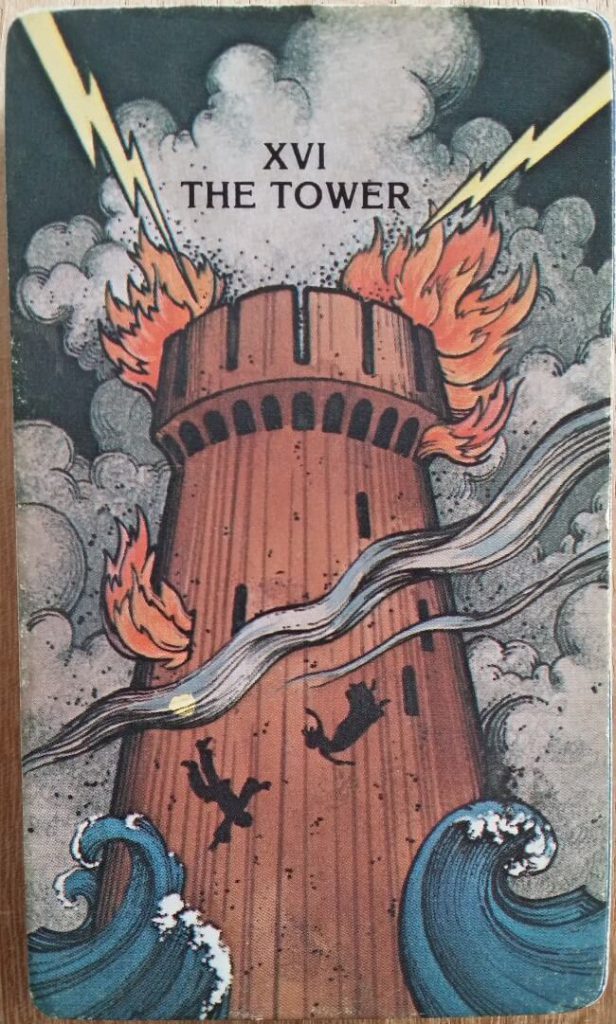 The stormy violence of the (16) Tower is expressive of its martian quality and its fiery element. Keep in mind that Mars is currently in Leo. A Leonine Mars is basking in his own element of fire, so things are highly charged around our needs this week.
Mercury Retrograde
In addition, Mercury has gone into retrograde and is conjunct Mars, so go careful when asserting yourself through the martian ego energy:
When Mercury goes retrograde, mistakes, misunderstandings, problems in communication and transportation are likely. Try to be flexible and open-minded. Think twice before making bold statements, and double-check and travel plans. Avoid making spontaneous decisions or agreeing to things on the spur of the moment. Mars square Uranus gives a strong urge to break free from restriction and rebel against authority. A tendency to act rashly without regard for the consequences can lead to great disruption or conflict.

https://astromatrix.app/#/retrograde
Dr Elliot Adam has just made an instructive video about dealing with Mercury Retrograde in a useful three-card tarot reading:
How you can be better through this Retrograde experience is going to be in affirming your stability, affirming what is working for you, and also not clutching so tightly to things.

Dr. Elliot Adam
I also feel that at this time, when Saturn is visible in the sky there is an oppressive air and a leaden atmosphere, certainly here in Hiroshima as we go through the rainy season with, it must be said, not so much rain, but oppressively overcast days. From this perspective, a storm to break up the close atmosphere would actually be quite welcome.
Just make sure that the stability you are seeking is not the false construct