The fresh energy of this week is presented to us today as the three charismatic qualities of a cheerful presence, a powerful posture and an empathetic warmth. In another manifestation – as Robert Graves described them in The White Goddess – these may also be seen as the three goddesses of whom Skelton speaks:
Diana in the leavës green,

Luna that so bright doth sheen,

Persephone in Hell

John Skelton, Garland of Laurell
In this week of the liturgical week of the (18) Moon, we have passed through the arcana of (13) Death into the fecundity of the Ace of Pentacles and it is as if today, all those qualities have been reaffirmed and presented in the arcana of the 3 of Cups.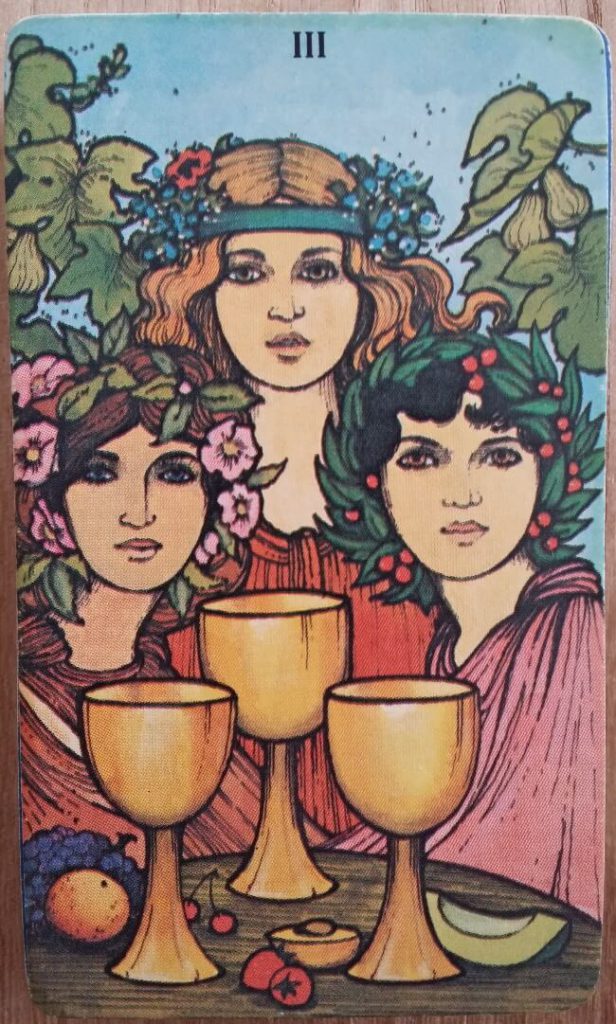 Application
Today, keep our charismatic ladies of the 3 of Cups in mind, and as you go about your business or your projects do so with power, presence and warmth and you will find your earthly endeavours to be greatly favoured.
In my case, I found myself very much in this mode, and dealing with something I love, which itself has a three-part feminine mystery to it. That is, I was teaching an English literature class on the subject of Shakespeare's sonnets, and concluded with the 20th Sonnet:
A woman's face with nature's own hand painted,
Hast thou, the master mistress of my passion;
A woman's gentle heart, but not acquainted
With shifting change, as is false women's fashion:
An eye more bright than theirs, less false in rolling,
Gilding the object whereupon it gazeth;
A man in hue all hues in his controlling,
Which steals men's eyes and women's souls amazeth.
And for a woman wert thou first created;
Till Nature, as she wrought thee, fell a-doting,
And by addition me of thee defeated,
By adding one thing to my purpose nothing.
   But since she prick'd thee out for women's pleasure,
   Mine be thy love and thy love's use their treasure.

William Shakespeare, Sonnet 20
The three-part mystery of the divine feminine manifesting itself in the young man who is the object of the poet's devotion is seen in the lines:
A woman's face…
A woman's gentle heart…
Till Nature, as she wrought thee…
Here we have Aglaea's radiant countenance, Thalia's gentle heart and Euphrosyne's delight in the creations of nature (which also give her pleasure). They are the three Graces of whom I spoke the last time the arcana 3 of Cups appeared in our daily readings.
During the course of the lesson we made the delightful discovery that every line of the 20th Sonnet has one extra syllable – an additional "thing" compared to a typical sonnet with its 5-foot line length. It was one of those "wow" moments when the class suddenly saw what Shakespeare was getting at, and one of the wonderfully fulfilling moments that makes teaching a pleasure worthy of the arcana of the 3 of Cups.