Well it is very pleasant to follow up yesterday's Queen of Rods with today's arcana of charisma (note the feminine ending), the 3 of Cups. What are the three charismatic qualities that are conveyed to us by this arcana? They are:
Euphrosyne is the blonde haired woman in the red robe. She is full of delight, cheerfulness and gladness, which she shares with others bringing delight to all whom she encounters.
Aglaea is radiant, bright and splendid. Her radiance shines out into the world through her eyes, and she looks directly out into the world and offers her radiance to anybody who makes eye contact. She is the dark haired woman in the pink robe looking directly at the viewer.
Thalia is the brunette in the brown robe. Her charisma is gentle and nurturing. She encourages and celebrates you with banquets, feasts and festivities.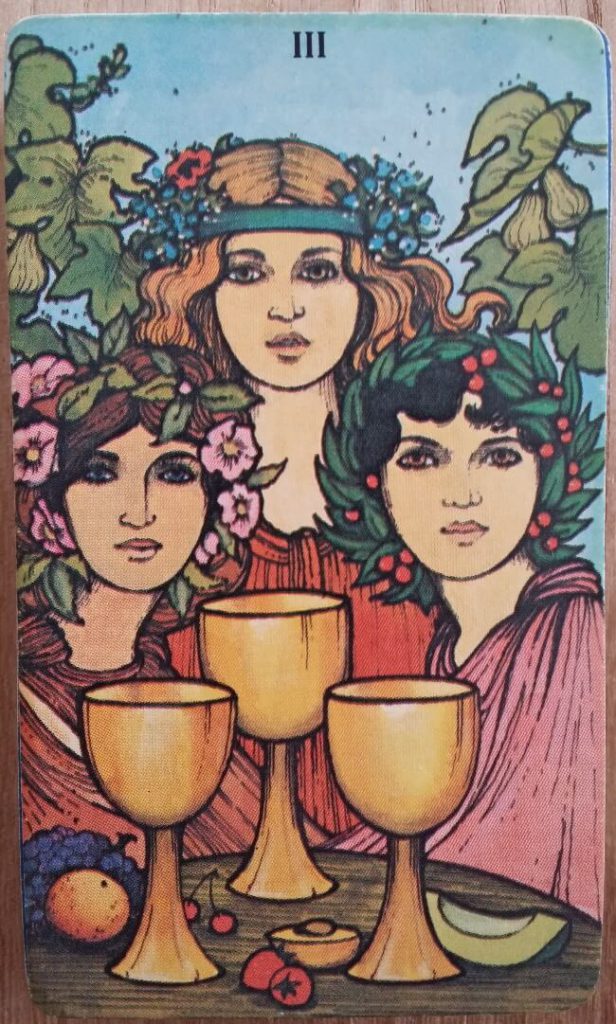 Consider today how you can apply those three charismatic qualities to your life and those around you. Yesterday the Queen of Rods showed you the kind of energy you need, today we discover how to apply that energy through the 3 of Cups.