With the reappearance of the Four of Cups on the other side of the Seven of Cups we have the balance that I alluded to yesterday. With Mars square to the Sun right now, the double appearance of the Four (square) of Cups on days dedicated to those two planets, framing, as it were, Luna's manifold longings, it is as if the heart's desires are held in check by the reason and the will. Yes, there are so many things to be desired, yet stay, my soul and bide your time.
On Monday, when the Seven of Cups appeared, the reading in the Daily Stoic was taken from Marcus Aurelius' Meditations in which he writes,
good fortunes are a well-tuned soul, good impulses and good actions.

Marcus Aurelius, quot. The Daily Stoic, p. 158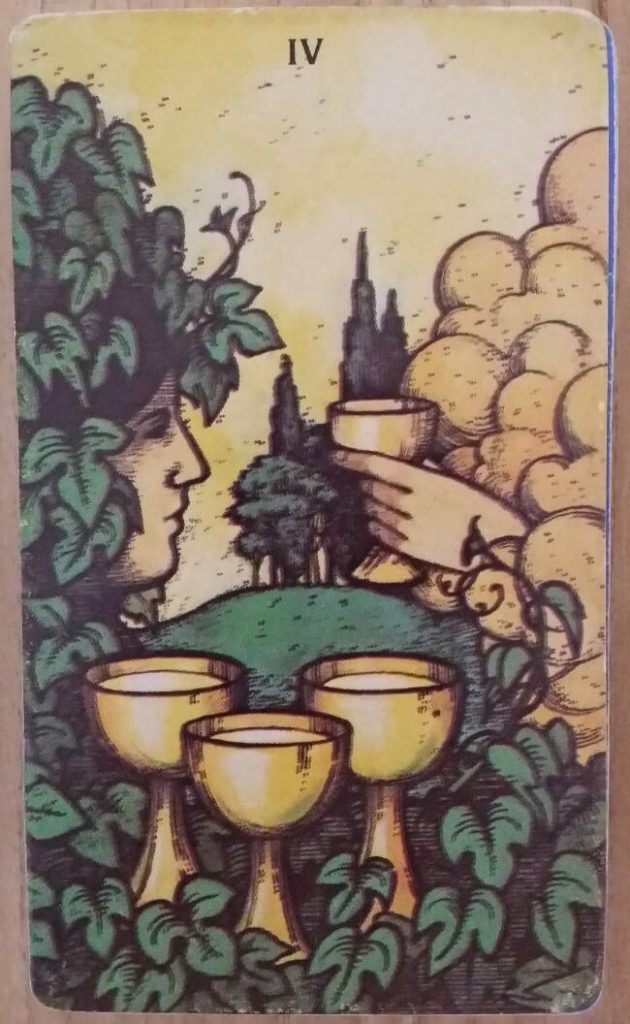 The balance of the Four of Cups flanking the Seven of Cups suggests that the soul may be well tuned by being still and meditating on the promptings of the heart, training oneself to respond to "good impulses" with "good actions" – one of which may indeed be the act of sitting still and meditating on the promptings of the heart and learning not to leap at every impulse.