Yesterday's Two of Swords suggested that there was an either-or question that needed to be considered and a choice or decision that needed to be made. As this is the fifth week after Trinity, which brings the (0) Fool to the house of the (5) Hierophant, who's element is earth, and since the arcana that now flank the Two of Swords are both Pentacles and therefore partake of the earth element (especially the Five of Pentacles), the decision that is in question is most likely to concern physical or financial matters.
The other elements are also evident in a secondary degree. There is the element Fire as we are in the season of Trinity and display the arcana of the (20) Sun, and as it was the Knight of Pentacles who appeared on Sunday; knights partake of the element of fire. Air is obviously present in the Two of Swords itself, and the element of water in the watery background of the Two of Swords itself so that our thinking, though rational, be not detached from our sensibility but rather that the two work in concert in thinking through the issue at hand.
In such manner, the young man wounded in head and hand as depicted in the Morgan Greer version of the 5 of Pentacles, is assisted by the woman while he looks back and thinks over what has happened and what he must do next. They pause by a church window in which we see illuminated by the light within five pentacles which remind us of the five wounds of Christ, and indeed, an upright pentacle such as we see in the window symbolizes Man naked and stretched out upon the cross of this life.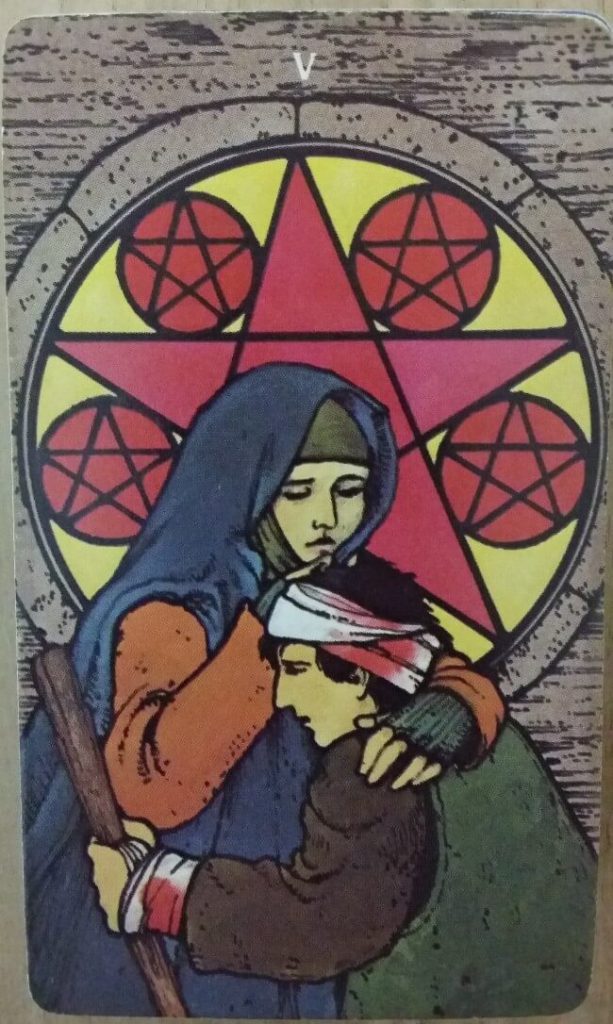 Personal Application
But to return to our quotidian concerns, in my case, the arcana speaks partly to my physical weakness this week after the excesses of the weekend. However, more importantly it speaks to a certain decision I have to make later this week regarding a question of payment for services rendered and a question over whether or not I have been disrespected. The issue is not yet clear and it has preoccupied my thoughts to a considerable degree, but I do expect a resolution before the week is out.