The Six of Pentacles calls upon us to pay attention to the distribution of our resources whether they be of money, possessions, empathy, affection, skills, time or indeed of attention itself. In the process of our daily lives we often end up tipping the scales out of balance so that we are spending a large proportion of out time on one area of our lives to the detriment of other areas. When the Six of Pentacles appears we should re-evaluate our priorities in the distribution of our resources.
As it is the first arcana of the week in the Sixteenth Week after Trinity , which is presided over by the (16) Tower, we ought to consider the distribution of our inner as much as our outer resources during the next few days.
One way we can tip the scales of our lives out of balance is by investing too much in our own pride or ego, building rigid structures that alienate us from communion with others.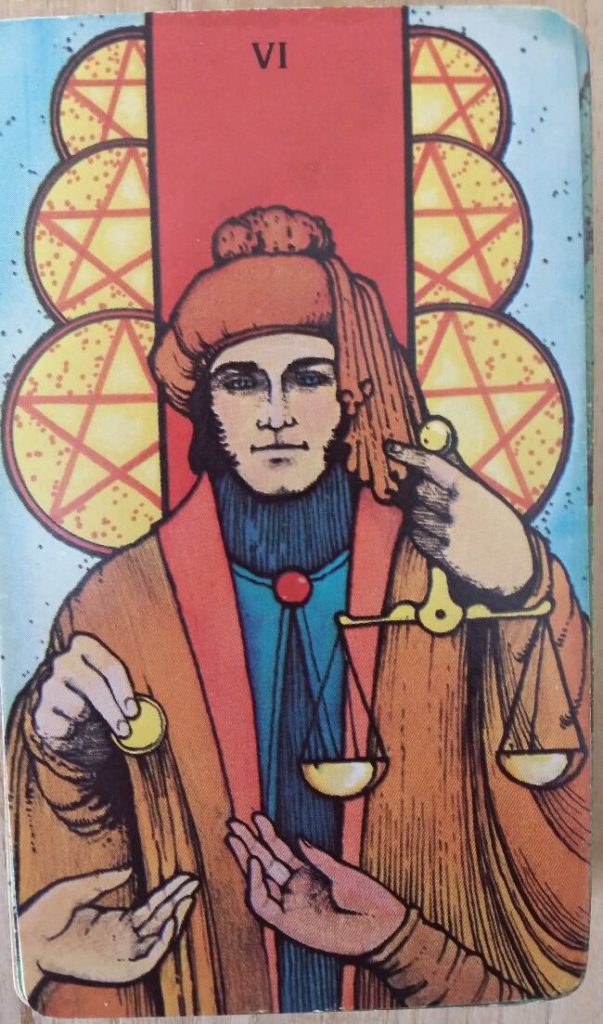 I happen to be reading the third part of High Performance Habits by Brendan Burchard this week. The third part deals with the traps that destroy high performance. They are the stones with which the (16) Tower of Destruction is constructed:
A sense of superiority.
A feeling of dissatisfaction.
A habit of neglect.
All three destructive tendencies can be corrected through contemplation of the Six of Pentacles, which is an arcana of communication – that is of reaching out to others in a spirit of humility and open-mindedness to see where resources can best be allocated. Taking mindful action in this way will help to develop a sense of satisfaction in your efforts, and a desire to improve on where you are right now, which will help to combat old habits of neglect. To help you focus on how you are distributing your resources, ask yourself:
How can I think about this situation from a humbler perspective, with more appreciation of the other person's potential?
What can I say to myself next time I feel dissatisfied with a situation so that I can notice the good things that are in it?
What important area of my life am I neglecting right now and how can I give it more of my time and attention?