Today the waxing Quarter Moon enters expansive and spirited Sagittarius while the Sun occupies earthbound Virgo. According to the calculations of Sidereal Astrology, my own birth sign is Sagittarius and I have on display on my bookshelf the Botticelli Tarot version of the Seven of Rods, which clearly associates the arcana with Sagittarius, whose sign is the centaur. Sevens represent the transition in the tarot from the first to the second median of the Lower Arcana, and the transition from one tercile to another in the Upper Arcana. In the Upper Arcana, (14) Temperance completes the second tercile and is also associated with Sagittarius. All this is worth mentioning not least because we arrive at the seventh day of the week with one of the sevens from the tarot deck at the same time as we are reaching the first quarter (seventh day) of the New Moon.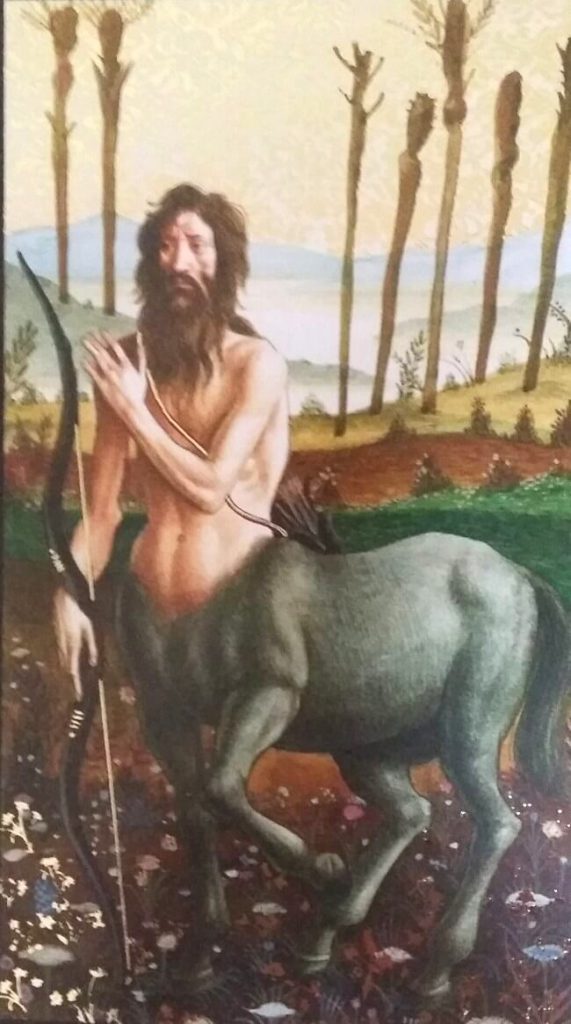 Here is Athen on the implications of the stars for this weekend.
15th Week After Trinity 2019
Sagittarius is associated with the element of fire, as is the Seven of Wands, and we note that this week has been dominated by the fiery energy of the rods as if seeking to free up the pent-up energy of the earth-bound (15) Devil with the help of the secondary, watery, aspects of the Two of Pentacles and the Queen of Rods. The Seven of Rods suggests that we have achieved some high ground but that the struggle continues. The fiery element alone will not suffice; that is the lesson of Chiron the Centaur. The qualities of the beast alone do not suffice. The airy qualities of pure intellect are also important, and they have not been manifest this week, except in the inclusive aspect of the (21) World. Let us see, therefore, what next week brings.