We last saw the 4 of Cups on Ash Wednesday at the very beginning of Lent. Its reappearance today, on Refreshment Sunday, reminds me that I wrote on Ash Wednesday that,
we refrain from taking everything that is on offer. We give up something pleasant that remains "on offer" and before our eyes.

Perennial Tarot, Ash Wednesday 2019
Here in Hiroshima, this is the first weekend of the cherry blossom season and I was thinking about joining a cherry blossom viewing party run by a German language circle. After all, the season is so short, I would meet "new people," drink beer, practise speaking in German (something I haven't done for a long time). I would also be able to take some nice seasonal photos to post on my blog and on Facebook.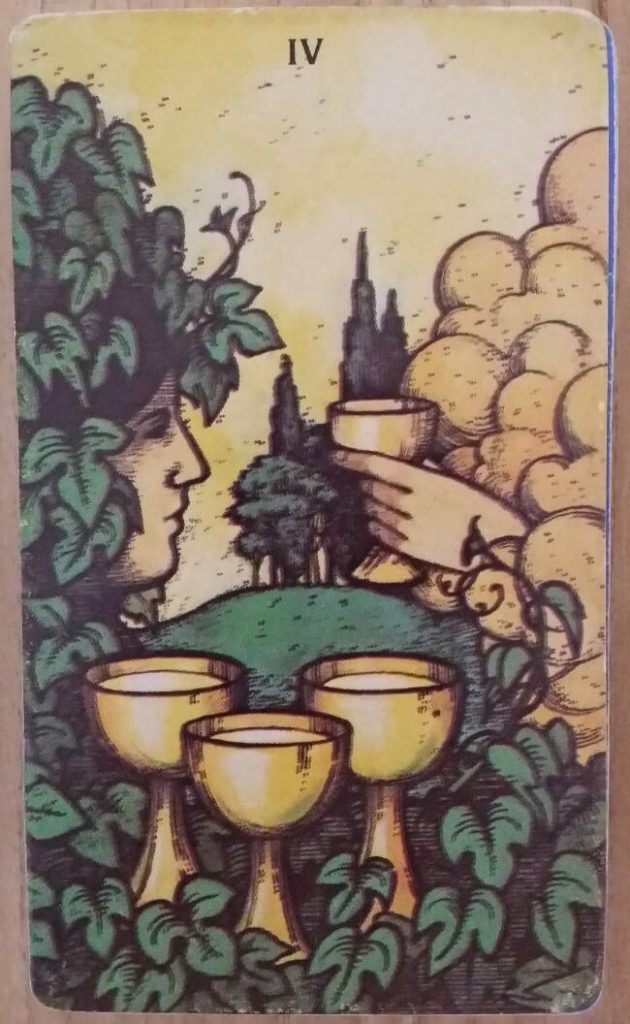 On the other hand, I could stay at home and work on some of my various projects.
For much of yesterday, I leant more towards going out and being sociable, and yet as the evening drew in I felt more inclined to refrain from going out and to continue living in the spirit of (9) The Hermit.
One sentence of The Daily Stoic reading hit home this morning:
A mind that isn't in control of itself, that doesn't understand its power to regulate itself, will be jerked around by external events and unquestioned impulses.

Ryan Holiday, The Daily Stoic, p. 101
Now merely by staying at home, where I am alone all day, doesn't mean that my mind is necessarily "in control of itself," but the likely degree of potential "jerkiness" is considerably reduced.
So the cup that is on offer to me today, I shall let pass, though it may contain blessings of its own. Today, this "green man" is not so much a creature of the wild wood as he is a "stick in the mud."
A Contemplation of Divine Sophia on Mothering Sunday
Wisdom is glorious, and never fadeth away: yea, she is easily seen of them that love her, and found of such as seek her. She preventeth them that desire her, in making herself first known unto them. Whoso seeketh her early shall have no great travail: for he shall find her sitting at his doors. To think therefore upon her is perfection of wisdom: and whoso watcheth for her shall quickly be without care.

Wisdom, 6: 12-18
Well, I was not expecting this when I was contemplating Solomon's meditation on Divine Wisdom, but here's what I happened to watch over lunch…
How To Stop Caring About Things That Don't Matter
Here is an excellent conversation between professional YouTuber Mareo Forleo and writer Mark Manson. Mark Manson most notably the author of the coarsely funny book of wisdom, The Subtle Art of Not Giving a F*ck which offers a counterintuitive approach to living the good life. I found their conversation offered some new insights into my theme today: