For me, today is very much a transition from the partying of Thursday and Friday, and the recovery period of Saturday and Sunday. We now have a test, with the appearance of the Lord of Loss in Pleasure, or the Lord of Disappointment, as the Five of Cups is variously called. The arcana is ruled by Mars in Scorpio; Mars rules Scorpio with a superabundance of desire which may well lead to overindulgence which leads to the death of pleasure; bear it with dignity and the loss of pleasure may lead to a rebirth of wisdom.
The Waxing Crescent Moon in Taurus
This being Monday we should also pay close attention to the Moon. We find it is in the waxing cresent phase and passing through Taurus, which suggestive of themes around developing our resourceful and self-reliant side. But we can only do that when we have acknowledged what we have been. And "self-reliant" is always in the context of being sustained and given life by the Divine without whom there is no reliance on self at all. To be truly resourceful, then, today it would be meet and proper to turn ourselves around, to repent, refresh and restart. Turn from the spilt cups of the immediate past, seek reconciliation with the higher self, and then start working on new projects and phases in your life. Gather your thoughts and make some plans for the month ahead.
The Five of Cups in the First Week of Lent
As this is the week of the First Sunday in Lent the liturgical theme for this week is (14) Temperance and the diligent keeping of the heart; it is remembering that "non in solo pane vivit homo," we do not live by bread alone, but by the very Word of the Divine. Turn, then to the mystical (5) Hierophant who is the higher arcana equivalent of the Fives and seek remission by reciting the good old Prayer Book prayer: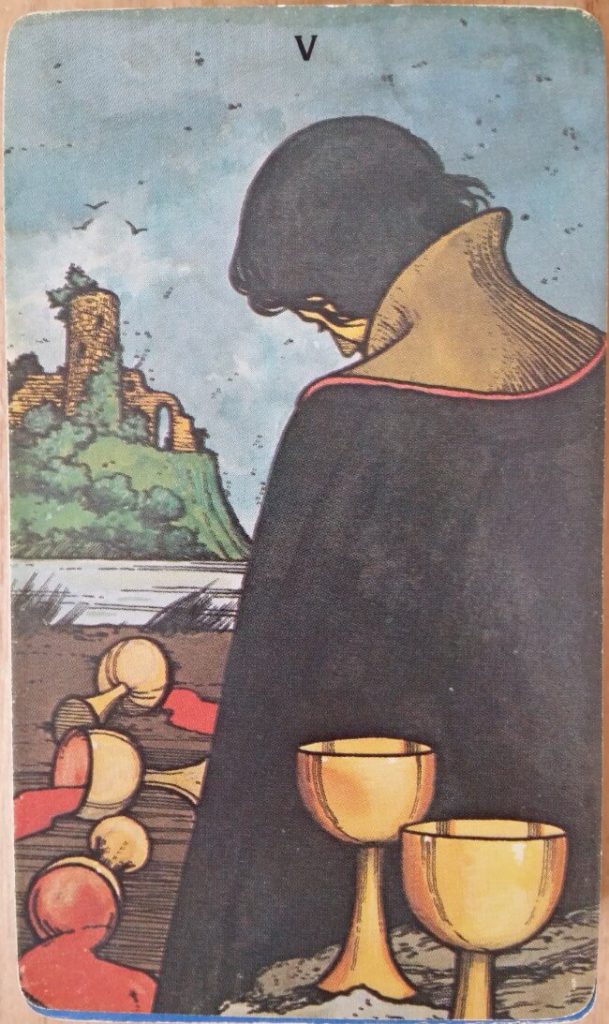 ALMIGHTY and most merciful Father, We have erred and strayed from thy ways like lost sheep, We have followed too much the devices and desires of our own hearts, We have offended against thy holy laws, We have left undone those things which we ought to have done; And we have done those things which we ought not to have done; And there is no health in us. But thou, O Lord, have mercy upon us, miserable offenders. Spare thou them, O God, which confess their faults. Restore thou them that are penitent; According to thy promises declared unto mankind in Christ Jesu our Lord. And grant, O most merciful Father, for his sake, That we may hereafter live a godly, righteous, and sober life, To the glory of thy holy Name. Amen.

Book of Common Prayer, A General Confession