Here we find ourselves in a state of flow amid the hurly-burly of this hectic life. The wands are all flying through the air in the same direction (unlike the unruly Five of Wands for example) over a pleasant and fertile landscape. They are dipping now and heading towards the earth, suggesting that an opportunity that is available to us now will soon be over. One interpretation of this card is that it is calling upon us to "seize the day" – "carpe diem" or to strike while the iron is hot.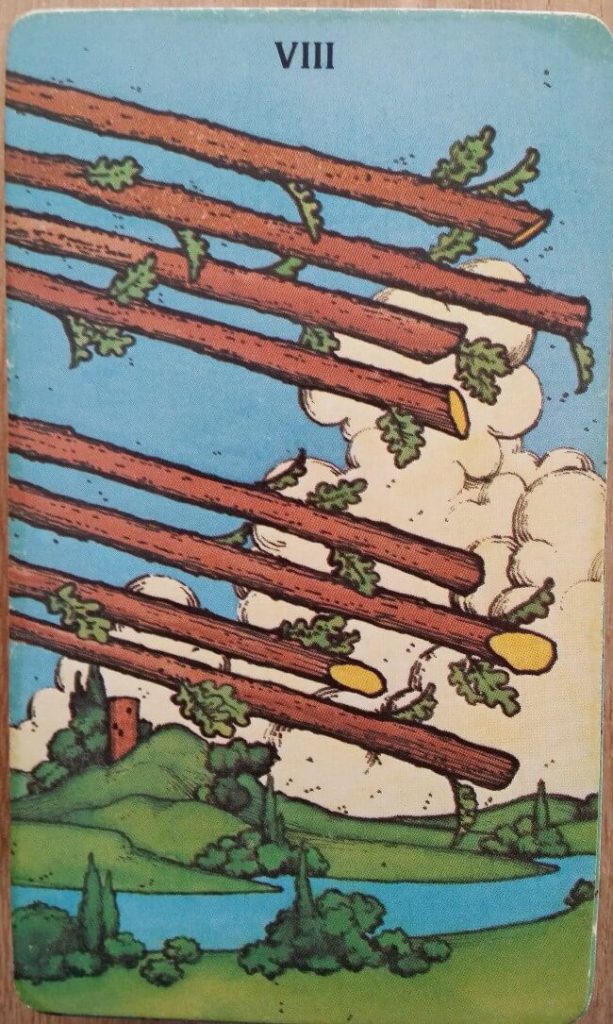 Personal Application
Today is the final day of the three-day Open Chess Tournament that I have been playing in here in Hiroshima. It has certainly been hectic since there has been little time for me to focus on anything else but chess. So far, I have played five games, two as White and three as Black and I have won both games as White and lost all my games as Black, leaving me with two points and just two games to go. If I finish on two points, I will probably avoid bottom place as a couple of players have fewer points than me and all of the lower-rated players are likely to face tougher opposition today.
If Tarot were merely about "fortune telling" then I would say that the Two of Cups followed by the Five of Pentacles suggests that I am likely to win just two points out of seven in this tournament. However, that is not the way of things with Tarot; it is a work of creative imagination. So much is open to our human potential and the Six of Rods and Eight of Rods speak of that dynamic energy which we can tap into.
Whatever the result of the competition, it has been a great opportunity for me to meet chess players from Osaka and to extend my small chess network in Japan, as well as to gain some precious experience of playing in a tournament setting. From that perspective, the Eight of Rods suggests that I am on the right course in seizing this opportunity to play chess in a local tournament.