We last saw the 8 of Cups on the 8th March 2019, which was the third day of Lent under a waxing crescent moon. Today the 8 of Cups appears again immediately before the three Holy Days immediately preceding Easter, Maundy Thursday, Good Friday and Holy Saturday, with the moon waxing gibbous. In my blog post of 8th March I wrote,
The moon in the 8 of Cups is eclipsing Sol and at the same time absorbing his influence. Our own moon right now is waxing and will reflect back to us more and more of the light of the sun as the vernal equinox approaches.

As Apollonian light returns it brings with it a renewed intellectual as well as physical vigour kept supple and moist by the waxing moon. And as our pilgrim traverses his path the landscape may well open up for him to view new vistas of opportunity.

Certainly in my case, I anticipate the arrival of new students and the return of last year's first years, as well as new contracts and progress with my online projects too.
Well, one online project that I have made progress with is this blog! It had only been set up for a few days on 8th March and has a lot more content on it now. Wednesday was the end of the first week of the new term at a vocational college where I teach three days a week and I am beginning to get to know the new intake of students and reconnecting with the returning ones.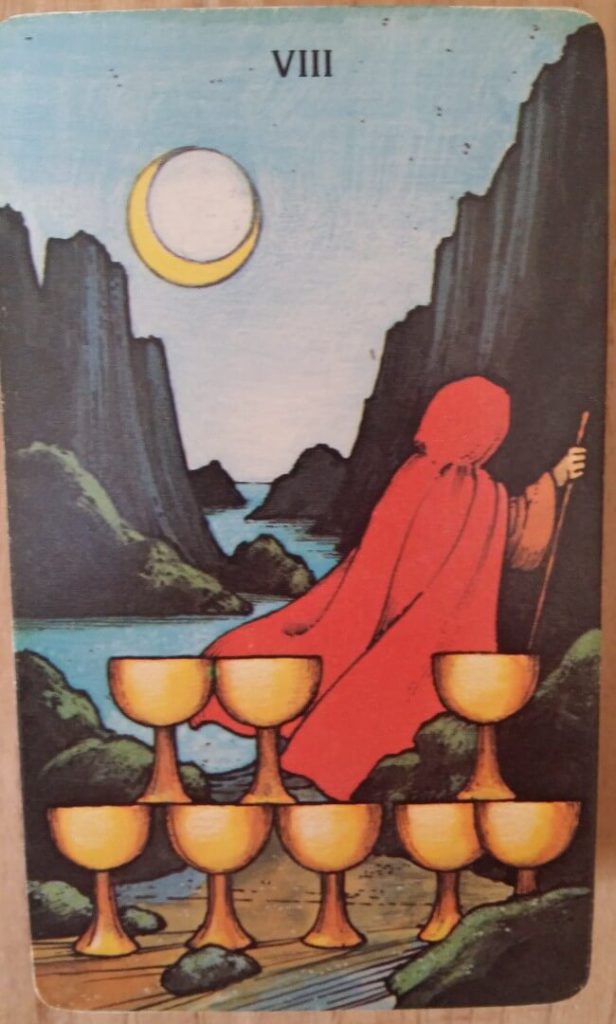 Staying in Touch
This week has been all about staying in touch with the vital emotional flow of life and today the 8 of cups suggested to me that we should keep in mind that all states of being and all things pass and that when the watery moon eclipses the Apollonian sun it is but for a few minutes.
Several times during the course of the day I was able to notice the motions of my heart and retain the equanimity that I mentioned in yesterday's blog post about the King of Cups.
The Time Has Come To Move On
It may also be that a relationship you have had for some time is coming to an end. Under such circumstances it does not do to speak endlessly of the end; put an end to the end by ending it and wending your way away. Understand then that all things pass, be grateful for the time you shared together, acknowledge that a gap has opened up, and move on without recrimination of yourself or the other.