Always happy to see the Page of Cups pop into my life with fun-loving tomfoolery! A typical question our playfellow might ask himself is, "How would it feel if…?" and what he has in mind may be mischievous, but never malicious.
The Page of Cups is associated with red tulips rather than red roses – compared to yesterday's Queen of Swords – because his love of life is expressive of none of her thorniness. As such, appearing together during the course of this week, each has a moderating influence upon the other.
Here we are in the middle of lent, hanging out with (9) The Hermit in the spirit of the 4 of Cups and along comes our little Ganymede, the Pagina of Cups herself! LOL!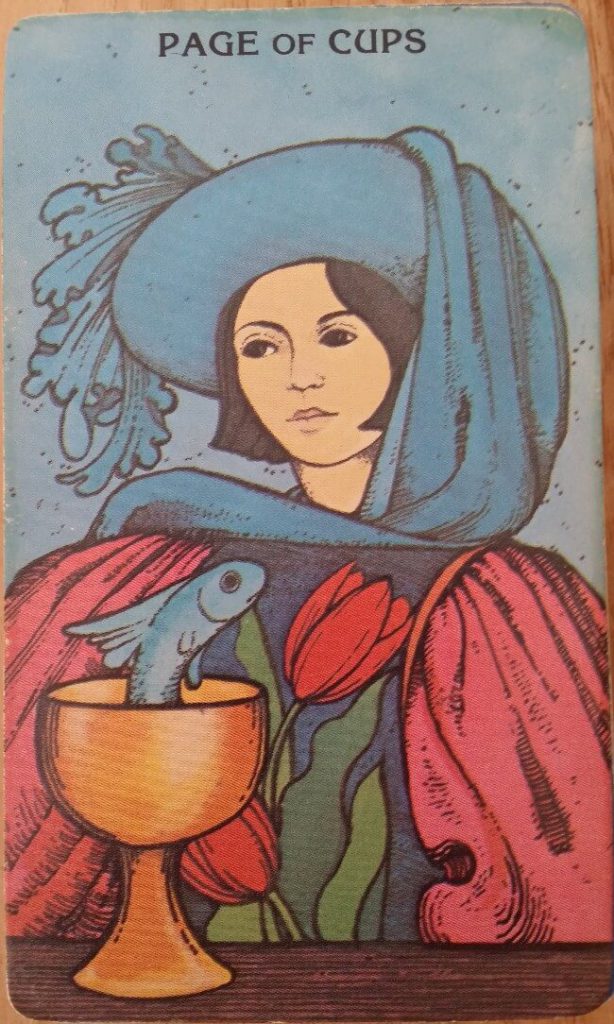 Hafiz: The Seed Cracked Open
In that spirit, I googled the term "lenten playfulness" and in the middle of quite a lot of dreary stuff, up popped this blog post (like a fish popping out of a golden goblet) which offers a cheerful approach to Lent in the spirit of the Persian poet, Hafez:
It used to be
That when I would wake in the morning
I could with confidence say,
"What am 'I' going to
Do?"

That was before the seed
Cracked open.

Now Hafiz is certain:

There are two of us housed
In this body,
Doing the shopping together in the market and
Tickling each other
While fixing the evening's food.

Now when I awake
All the internal instruments play the same music:
​
"God, what love-mischief can 'We' do
For the world
Today?"

from The Gift, Poems by Hafiz, translated by Daniel Ladinsky
The first question is one that of the Queen of Swords might ask. However, when "the seed cracks open" out pops the Page of Cups (like a fish out of a golden cup) to add a playful element to her question and bring out the playfulness in her character too).
Intrigued by Hafiz, I looked him up on Audible.com to see if there were any audio books about him. There were, and no sooner had I checked out one of them, Hafiz: The Scent of Light , than I read this in the blurb:
Hafiz once said: "A poet is someone who can pour light into a cup, then raise it to nourish your beautiful parched holy mouth."

Hafiz: The Scent of Light, Publisher's Summary, Audible.com
Marie Forleo Plays The Page of Cups Online…
I made one more serendipitous discovery, which ties the Page of Cups back into the context of my life as a blogger and Internet entrepreneur. When I googled "hafiz seed cracked open" I was surprised to see it pull up a Marie Forleo video about "how to keep coming up with ideas for content," in which Marie Forleo epitomizes the spirit of the Page of Cups in her delivery. An amazing set of coincidences which illustrate the power of the puckish Page of Cups in everyday life. 🙂
Have Fun Doing Dumb Sh*t Today!
Have fun doing dumb stuff today, like Marie Forleo – our honorary Pagina of Cups (who's really a Queen of Swords – see yesterday's blog post and you'll get what I mean; also, note that Marie's primary dress colour is black, just like the Queen of Swords)!
Oh, and just ONE more coincidence – can you believe it Here's what Marie Forleo says about creativity:
God is the water, and you are the faucet

Mareo Forleo, quoting Marianne Williamson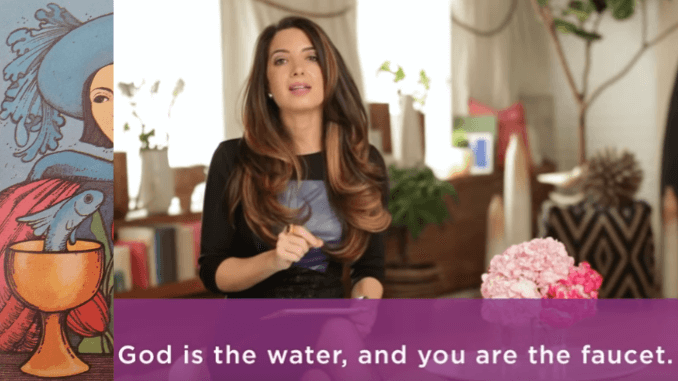 Well, okay, just one more thing… Do you notice how the colour scheme is channelling the Page of Cups: the blue front panel of Marie Forleo's outfit and the pink flowers in the vase on the table? Oh, and check out the colour scheme of Marie's "dumb buddy": 😉