Emotions, according to Nassim Nicholas Taleb, are lubricants of reason. We need to feel in order to choose. Emotions give us the energy to do so. The Seven of Cups is ruled by Venus in Scorpio, which is itself governed by Mars, the presiding deity of Tuesdays.
The Venus-Mars conjunction leads to conflicting urges or desires as the first fruits of success begin to manifest themselves. However, this week the King of Rods presides as our solar arcana who can guide the open-minded experimentalism of the lunar arcana, the Page of Pentacles, which suggests that our surveying of all that is on offer and our desire for one thing or another can be beneficial this week.
We also note that the Moon moves into Scorpio, offering scope for investigating our deeper feelings for the range of options presented by the Seven of Cups. Tomorrow, the Moon in Scorpio passes healing Ophiuchus, which may point to what aspect of our inner life is open to being healed.
Since this arcana is ruled by Venus, it is worth pointing out that Venus is currently in Gemini, which is very supportive of enjoying the variety of life that is on offer in the Seven of Cups, made deeper by the Venus Neptune trine and expanded by her opposition to Jupiter.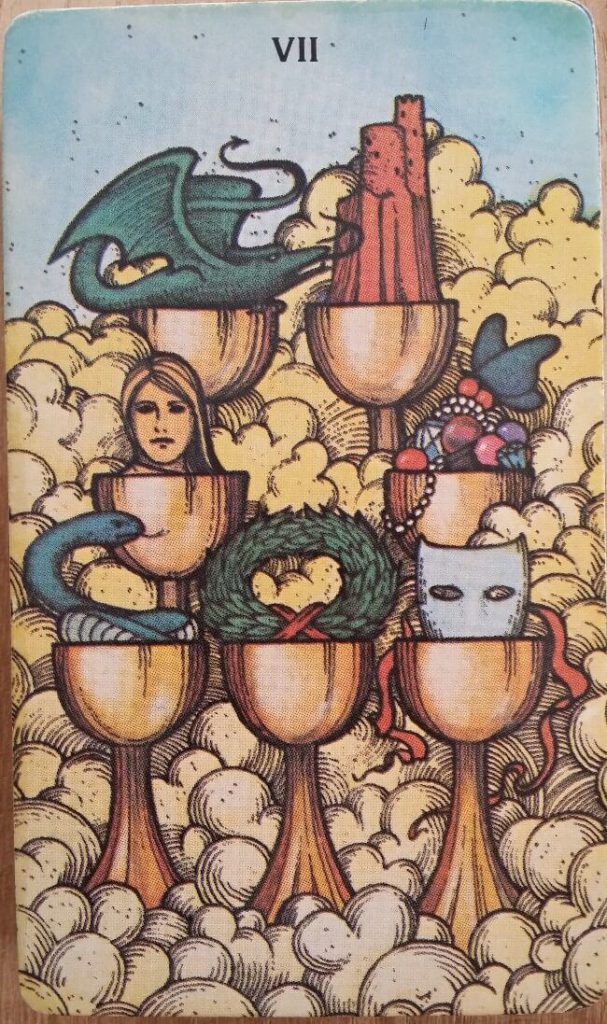 Affirmation
How am I silently drawn by the strange pull of what I really love?!

Modified version of a citation of Rumi in Tarot Affirmations, p. 108.