Yesterday we saw a hand emerging from a cloud offering the Ace of Rods in the form of a cut oak branch that was in leaf and we felt the potency thereof. Today another hand emerges from a murkier cloud offering a cup to an abstracted looking person who is covered in the leaves and tendrils of a grapevine. Is it not suggestive of one who is immersed in thought about the current situation, who has become engrafted with his surroundings and the ephemera of the moment? It is as if we have been,
cheered and checked even by the selfsame sky.

William Shakespeare, Sonnet 15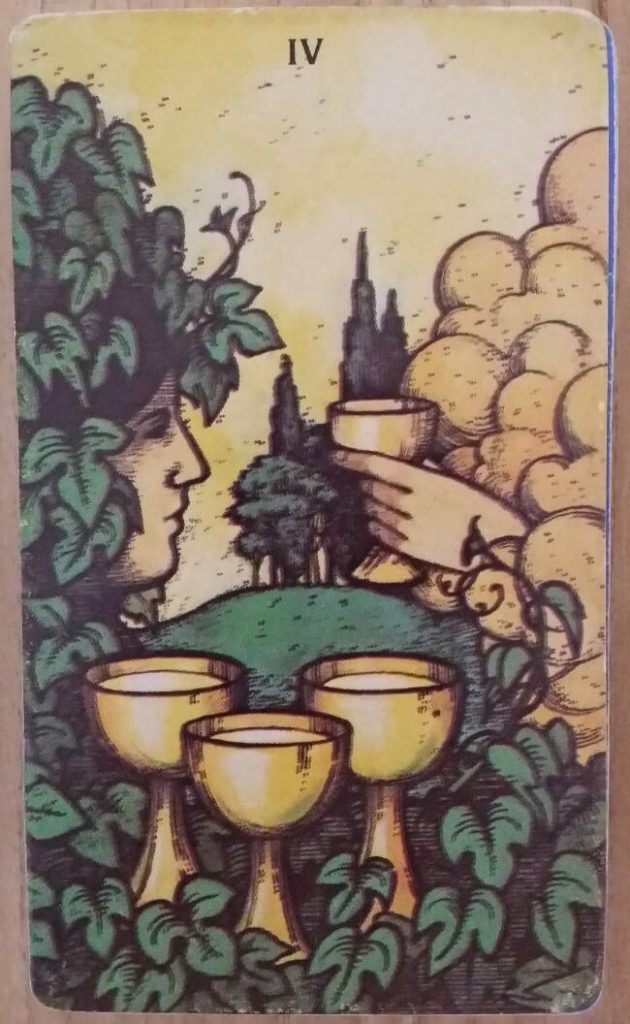 It is almost as if the suspension of the (12) Hanged Man has turned the dynamic potential of the Ace of Rods into the melancholic passivity of the 4 of Cups, or a sense of the vanity of life, and that all it has to offer is
nought but shows.

William Shakespeare, Sonnet 15
We might say that the Ace of Rods and 4 of Cups are two aspects of the same person, the (12) Hanged Man inspired with the energy of the Easter (20) Judgement Arcana, the "You" and "I" of Shakespeare's 15th Sonnet. Doing so enables us to find a way out of the apparent malaise by considering what time takes from us, exchanging ashes for beauty as it were, mourning for the oil of joy, and youth for sullied night. Then, having reconciled ourselves to the wasting flow of time through the suspension of the (12) Hanged Man, we make war upon time; that is, we use what time remains to us to engraft ourselves anew with the creative energy of the Ace of Rods, fashioned now into the pen of a ready writer, and find inspiration in the otiose beauty of the youth in the 4 of Cups to create dynamic new works of art that live forever.
When I consider every thing that grows
Holds in perfection but a little moment,
That this huge stage presenteth nought but shows
Whereon the stars in secret influence comment;
When I perceive that men as plants increase,
Cheered and checked even by the self-same sky,
Vaunt in their youthful sap, at height decrease,
And wear their brave state out of memory;
Then the conceit of this inconstant stay
Sets you most rich in youth before my sight,
Where wasteful Time debateth with decay
To change your day of youth to sullied night,
   And all in war with Time for love of you,
   As he takes from you, I engraft you new.

William Shakespeare, Sonnet 15