And so the week ends with a fiery bang rather than an exhausted whimper; the Seven of Rods suggesting that we have had sufficient energy to maintain our ground in spite of losing our spiritual footing with the (2) Empress Reversed during the middle of the week! With the Page of Rods we have a return of a fresh and enthusiastic energy of a newly kindled fire leaping over the dry twigs casting the warmth of good cheer and hope in our daily life.
In her very helpful video on the Page of Rods. For me her comments on using page energy to avoid getting bogged down with a new Internet marketing project was especially timely!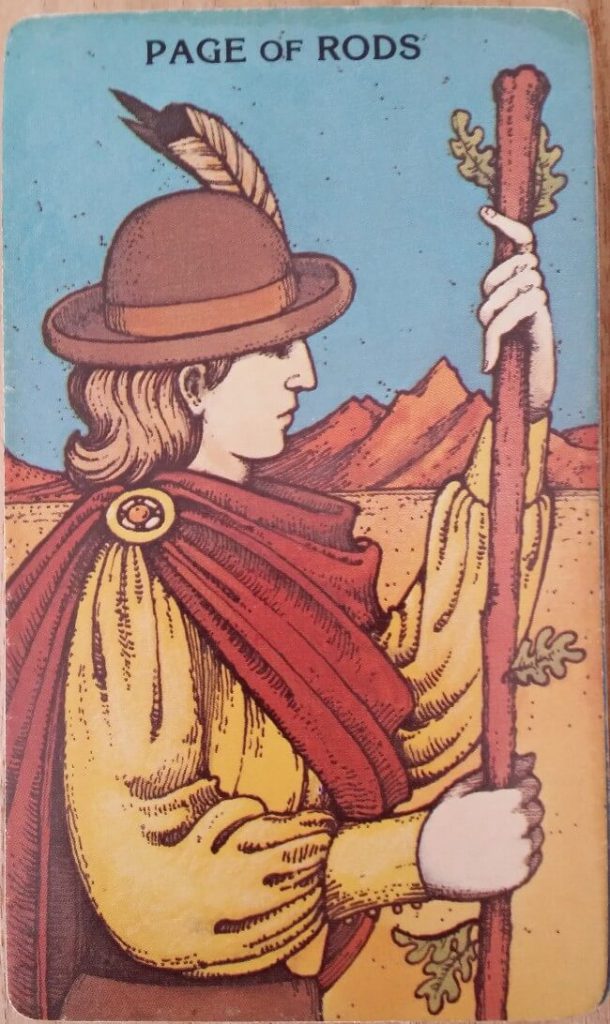 Personal Application
A few years ago when I began drawing a tarot card each day, it was New Year's Eve 2014 when I drew the Page of Rods followed by New Year's Day 2015 when I drew the Six of Swords. In contrast, this week began with the Six of Swords and ended with the Page of Rods. I see the boatman in the Six of Swords as the Page of Rods having found employment or having been set a specific task. This week the Six of Swords carried us across some choppy waters (!) in search of the new birth of (20) Judgment and the clarity of the Queen of Swords through the uncertainty and questioning instability of the double twos, the Two of Swords and the (2) High Priestess Reversed to the opposite shore where the boatman's staff was pressed into service in the struggle to recover and hold one's ground with the Seven of Rods.