On Martinmas, which is also Remembrance Day, 11th November, or on Remembrance Sunday, the second Sunday in November, whichever falls first, the Four of Swords is displayed with the blades downwards. It remains on display until the latter of the two days is over.
Martinmas is traditionally the first day of winter. Saint Martin is the patron saint of soldiers and beggars, of wine and geese.
Saint Martin, named after Mars, the god of war, used his sword to part his cloak for a beggar, and then laid it down for a life dedicated to Christ.
First World War ended on the eleventh hour of the eleventh day of the eleventh month, which is when many of the festivities of Martinmas commenced traditionally commenced. It is meet that the guns of the Great war should have fallen silent at the moment when the festivities in honour of the soldier who laid down his arms for Christ began. (source: newliturgicalmovement.org )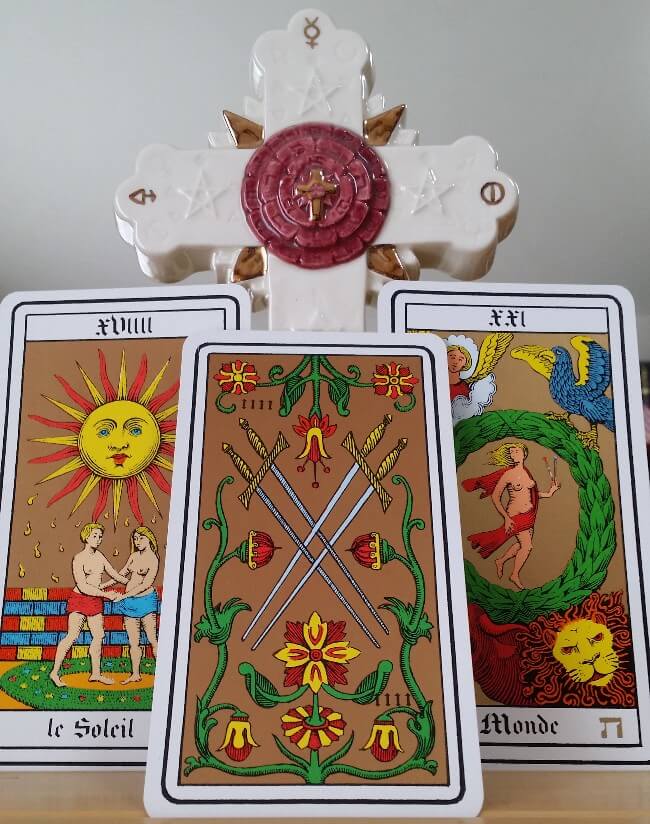 The twenty-third Psalm shall be recited on each day that the Four of Swords is on display
THE Lord is my shepherd : therefore can I lack nothing.
2 He shall feed me in a green pasture : and lead me forth beside the waters of comfort.
3 He shall convert my soul : and bring me forth in the paths of righteousness, for his Name's sake.
4 Yea, though I walk through the valley of the shadow of death, I will fear no evil : for thou art with me; thy rod and thy staff comfort me.
5 Thou shalt prepare a table before me against them that trouble me : thou hast anointed my head with oil, and my cup shall be full.
6 Surely thy loving-kindness and mercy shall follow me all the days of my life : and I will dwell in the house of the Lord for ever.


Glory be to the Father, and to the Son : and to the Holy Ghost;
As it was in the beginning, is now, and ever shall be : world without end. Amen.

Psalm 23 & Gloria, Book of Common Prayer
After which, the fourth stanza of Laurence Binyon's Ode of Remembrance shall be recited:
Martinmas
Saint Martin represents the abundance of the harvest and Martinmas is the day when Italians start drinking "vino novello – the young wine" made earlier in the same year.
Octava Martini
Gaude Sion quae diem recolis qua Martinus compar apostolis mundum vincens junctus caelicolis coronatur | … Hic Martinus qui cathecuminus nudum vestit et nocte protinus insequente hac veste dominus et indutus | Hic Martinus spernens militiam inimicis inermis obviam ire parat baptismi gratiam assecutus | Hic Martinus dum offert hostiam intus ardet per dei gratiam supersedens apparet etiam globus ignis | Hic Martinus qui caelum reserat mari praeest et terris imperat morbos sanat et monstra superat vir insignis | Hic Martinus nec mori timuit nec vivendi laborem respuit sicque dei se totum tribuit voluntati | Hic Martinus qui nulli nocuit hic Martinus qui cunctis profuit hic Martinus qui trinae placuit majestati | … O Martine pastor egregie o caelestis consors militiae nos a lupi defendas rabie saevientis | O Martine fac nunc quod gesseras deo preces pro nobis offeras esto memor quam nunquam deseras tuae gentis amen

https://cantus.uwaterloo.ca/chant/688820