The first thing to note about the first arcana of the New Year is that the Four of Cups is governed by the Moon in Cancer, which is exactly where the sidereal Moon is today. That is to say, the celestial attribution of the arcana is in complete agreement with the actual placement of the planet that governs her.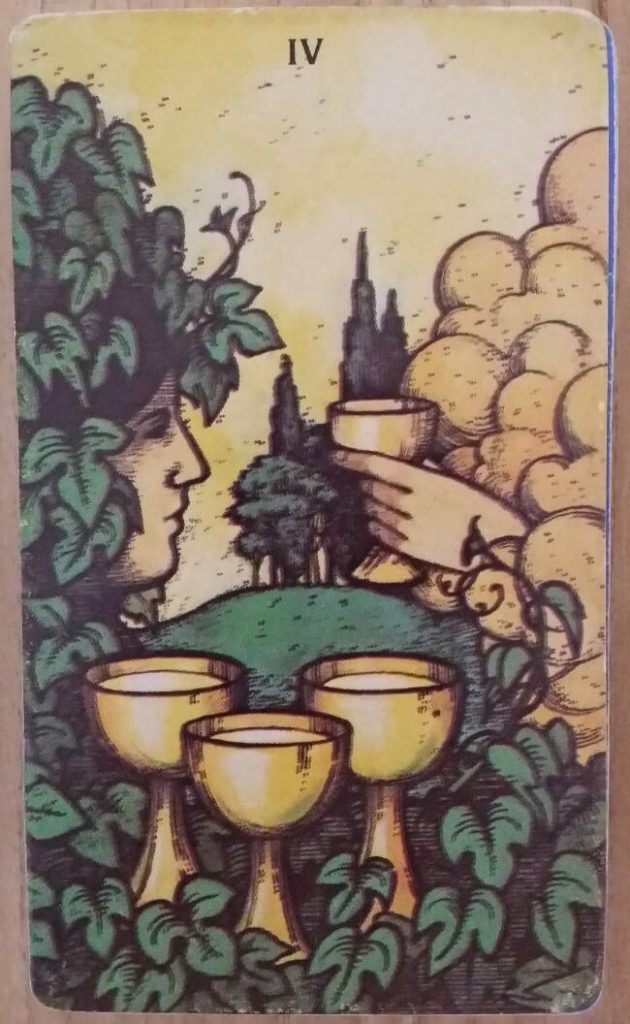 That is good news for those who feel that the Four of Cups is a necessarily negative arcana to draw. It is a matter of placing the arcana in context. For me, the Four of Cups reflects the cheerful leisure that this time of year can afford. Certainly, in my case, I am spending my days and pursuing my projects and interests in a leisurely way at home.
Of course, the danger is that too much otium becomes otioise and we may lose vigour and lack the vital energy necessary to seize the day.
We should there keep in mind the location of both Venus and Jupiter, for today is the day of the Venus, and Jupiter is exalted in Cancer. Speaking of Jupiter, the Sun is in expansive Sagittarius, which is ruled by Jupiter, and Jupiter is in practical Capricorn which opposes protective and introverted Cancer.
Meanwhile, Venus is located in deep and healing Ophiuchus, in the eighth house of Mors or birth, death, eros, metamorphosis and mystery, so there is space here for deep contemplation that which you love, or loving contemplation of the mysteries of life and death, and of mystical reverie.
Thus, if we keep these things in mind and remain open to them, we can achieve a nice balance between profound repose and an active sense of purpose. For now, our aptitude for seizing opportunity may be in abeyance, but the planets are in favour of our doing so once the holidays are over.