The Four of Cups invites us to take a step back from the hurly-burly of our quotidian lives, to contemplate the blessings that we enjoy already, the Three of Cups that are shown on the ground among the undergrowth in the illustration, and also the actual Three of Cups that we drew on Wednesday of this week.
Sometimes the Four of Cups may be suggesting that there may be opportunities or offers out there that we are overlooking or ignoring, but I do not feel that that is the case when reading this arcana in the context of this week.
Beware of "Overreaching"
For one thing, I have just been reading the section of Brendan Burchard's book High Performance Habits in which he talks about forms of neglect that can cause high-performers to take a tumble.
One form of neglect that he highlights is that of "Overreaching," which I was reading about this morning. Doesn't that term, "overreaching" have an echo of this week's Liturgical Arcana, the (16) Tower of Destruction about it? Here is how Brendan Burchard defines it:
According to the high performers who failed to maintain their success, overreaching was a problem that stemmed from an insatiable desire for more, coupled with an unrealistic sense of what is possible in a short time frame, which led to overcommitment. In other words, it was an issue of going for too much, too fast, in too many domains.

Brendan Burchard, High Performance Habits, p. 318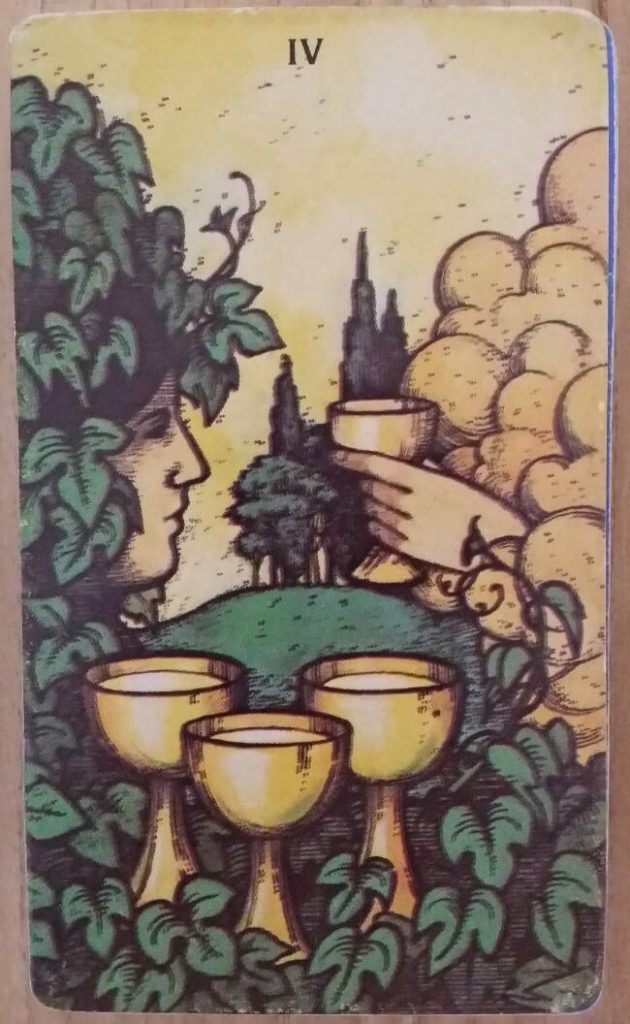 What the Four of Cups invites us to do is to slow down, switch off the flow of stimuli invitations and offers which invite you constantly to react. Learn to say "No" and to withdraw, relax and rejuvenate. Also, with reference to the three cups that are already in your possession, think about the blessings that have enabled you to get to where you are today, and develop an attitude of gratitude for them.