The arcana for the 24th Sunday after Trinity is the (15) Devil, the inner adversary who ever whispers doubts into our ears as we stand, like Joshua the priest, in the filthy rags of our sinfulness, which is to say, in the raiment of our limiting beliefs, for what is sin but actions that are prompted by limiting beliefs?
It is then that that higher Joshua, which is Jesus, speaks, rebuking the satanic jabbering, choosing in its place – or replacing it with – the abode of peace, which is the inner Jerusalem, the higher mind that is at One with the Source of Eternal Life itself.
Once we have silenced or at least come to recognize our limiting beliefs for what they are, we can prepare ourselves for the new work that is anticipated next week on Stir Up Sunday.
Whenever the 15th arcana is on display, it is meet that we place an icon over the arcanae where our eyes can rest upon it. Here, the icon I have selected is the Madonna del Latte (1423), by Gregorio di Cecco.
The Collect
O Lord, we beseech thee, absolve they people from their offences; that through thy bountiful goodness we may all be delivered from the bands of those sins, which by our frailty we have committed: Grant this, O heavenly Father, for Jesus Christ's sake, our blessed Lord and Saviour, Amen.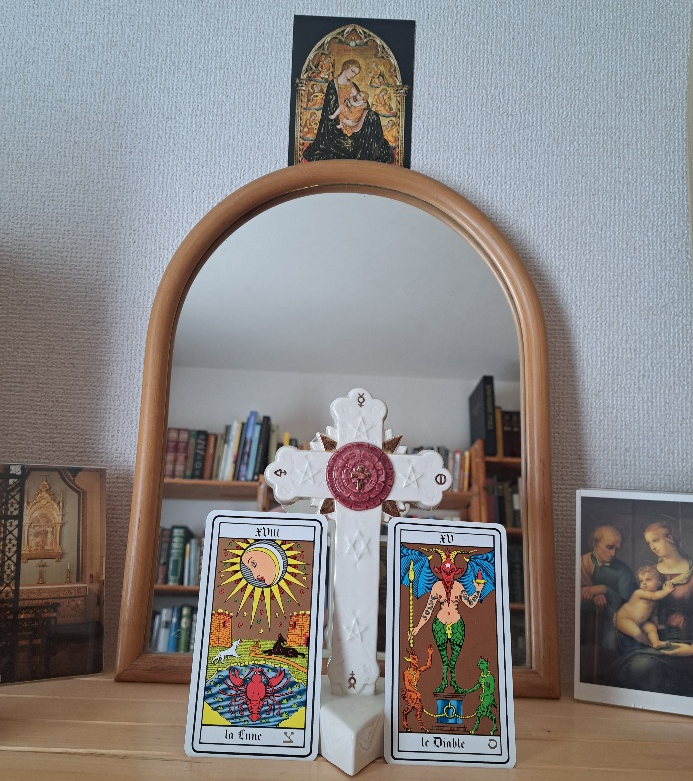 Old Testament Reading
The Lord rebuke thee O Satan; even the Lord that hath chosen Jerusalem rebuke thee.

Zechariah 3: 2
New Testament Reading
… be filled with the knowledge of his will in all wisdom and spiritual understanding: that ye might walk worthy of the Lord unto all pleasing, being fruitful in every good work, and increasing in the knowledge of God; strengthened with all might, according to his glorious power, unto all patience and long-suffering with joyfulness; giving thanks unto the father, which hath made us meet to be partakers of the inheritance of the saints in light.

Colossians 1: 3
Liturgical Affirmation
Omnia tempus habent et suis spatiis transeunt universa sub caelo. Non potestis Deo servire et mammonae

All things have their season, and in their times all things pass under heaven. Ye cannot serve God and mammon.