It is said that the 6 of Cups is an arcana of looking back at pleasant memories, of communing with the happiness of times gone by, of happy occasions which continue to flower in our memories and which help to define who we are. Reunions with old friends are also relevant to this arcana.
However, in the Rider Waite deck, the scene is set in a garden that appears to be in a village, behind a substantial house and a church, with a guard holding a spear in the background. As such, it is also a card of domestic security and industry; the marriage of emotion and effort which is symbolized by the act of gardening.
This act of planting, growing and offering flowers may be seen as evidence of the role of the "will" as the "gardener" and that just as we can choose what to plant, we can choose which memories to nurture, and what emotion to imbue them with, for it is in our gift to decide the value we place on past events, and which ones to dwell on and which to drop.
In relation to the two previous cards of this week, we may observe that there are times and seasons in which to plant and in which to let things lie fallow. In this week of the Strawberry moon, it is a good time to go strawberry picking, but not a good time at all to pick apples.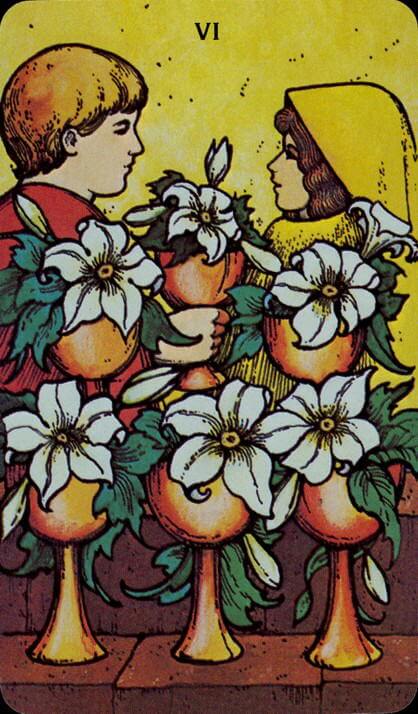 Personal Application
On Monday two students who I taught last year have decided to switch into my class mid-term and I was happy to see them again. They both wanted me to teach them to play chess, and one of them has taken to the game, so we have an opportunity to continue to nurture seeds that were planted last year.
Today I am to give a lesson on Anthony's speech to the plebs in Shakespeare's tragedy of Julius Caesar; that is a great example of a speech that plants seeds in the minds of its listeners if ever there was one, the seeds of emotion in favour of Caesar, and therefore of Anthony, as opposed to the killers of Caesar and the Republic. For my part, I hope that I can plant seeds of delight in literature in the minds of my students.