What are we to make of the (12) Hanged Man, which is the Palm Sunday Arcana in the Liturgical Year, when he reappears in our Daily Tarot readings on Easter Sunday? In Holy Week the (12) Hanged Man symbolizes the self-emptying, sacrificial offering of Christ and the world-turned-upside down in the expectations of the disciples.
However, the Liturgical Arcana for Easter Sunday is (20) Judgement which is a scene of angelic proclamation and the resurrection of the dead, which the Resurrection of Christ anticipates, and the (12) Hanged Man is our daily Tarot seen in the context of Easter, and setting the theme for the week. The movement in the twentieth arcana is one of drawing the son out of his grave and upwards in response to the trumpet blast of the angel.
Now there is a verse in the Gospel of John that nicely connects the concepts of judgement and the hanged man in one of its aspects, that is, (20) Judgement from the perspective of one who lives not from his own ego, but from that of Divinity, which is the perspective of the (12) Hanged Man, the one who knows that "I" can do nothing by myself alone, and who accepts or embraces such gnosis:
I can of mine own self do nothing: as I hear, I judge; and my judgement is just; because I see not mine own will, but the will of the Father which hath sent me.

John 5: 30
On the other hand, according to the anonymous author of Meditations on the Tarot the process of resurrection involves both the downward direction suggested by the (12) Hanged Man and the upward movement of the body of the son arising from the grave in the (20) Judgement:
At the resurrection the human spirit and soul descend from above and unite with their immortal body, which ascends to meet them.

It is the love of the father which makes souls and spirits descend to eternal incarnation; and it is love of the Mother which makes the resurrection bodies – which rest in the womb of the mother – ascend.

Meditations on the Tarot p. 585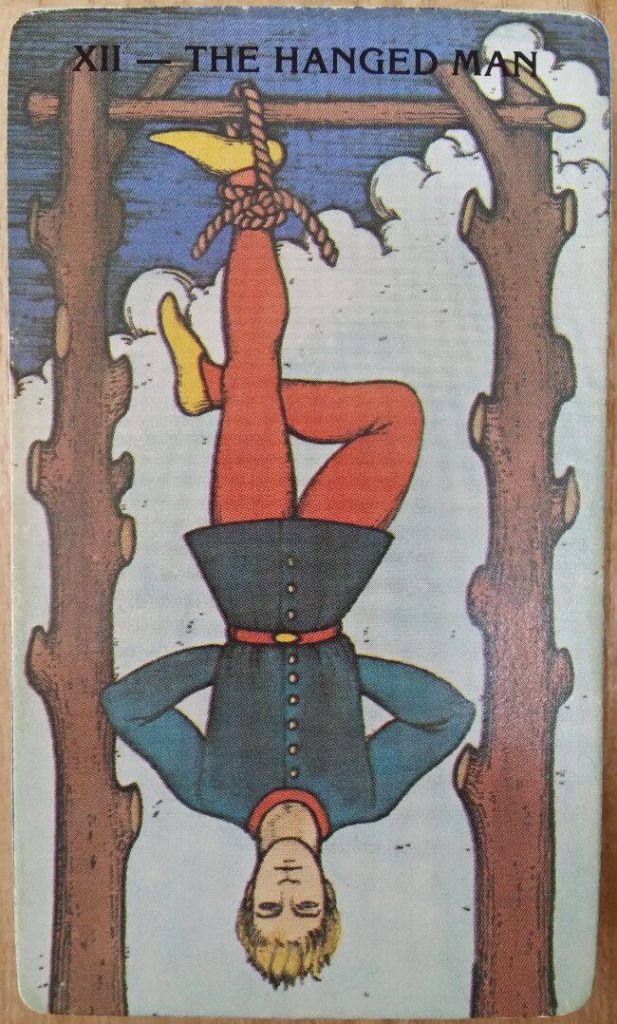 For our daily meditation, then, it is meet that we consider the (12) Hanged Man as the necessary precondition to pass through the resurrection and judgement of the twentieth Arcana which marks the Easter season in the Liturgical Year.
In consideration of our sublunary lives, I found this discussion between Lewis Howes of The School of Greatness and Jason Silva to be pertinent: