One's thoughts fly to poems expressive of the completion of cycles, of crowns, of the dance of being itself and of the paradox of existence, such as La Corona by John Donne and the Four Quartets by T. S. Eliot which concludes with a nod to Dame Julian of Norwich,
And all shall be well and

All manner of things shall be well

When the tongues of flames are in-folded

Into the crowned knot of fire

And the fire and the rose are one.

T. S. Eliot, Little Gidding, Four Quartets
In La Corona, John Donne offers his poem as a "crown of prayer and praise" in a spirit of "lone, devout melancholy," which is appropriate for us as we enter Holy Week.
The narrator does not ask for the poet's worldly crown, and nor does he seek the crown of thorns, but "what thy thorny crown gained, that give me, a crown of glory," and it is a crown of glory that is shown here, a heavenly crown of everlasting bays in exchange for his poem, which is itself "woven" in the form of a crown:
Deign at my hands this crown of prayer and praise, 
Weaved in my lone devout melancholy, 
Thou which of good hast, yea, art treasury, 
All changing unchanged Ancient of days. 
But do not with a vile crown of frail bays 
Reward my Muse's white sincerity ; 
But what Thy thorny crown gain'd, that give me, 
A crown of glory, which doth flower always.

John Donne, La Corona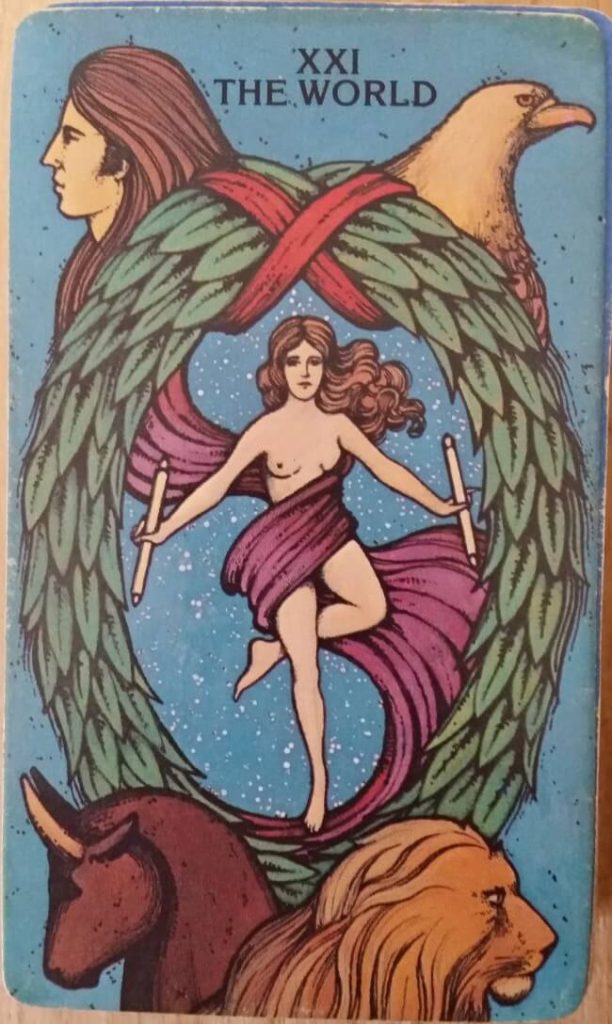 In his Candlemas sermon of 1623 John Donne describes the soul as one,
that is accustomed to direct herself to God upon every occasion, that, as a flower at sun-rising, conceives a sense of God in every beam of his and spreads and dilates itself towards him in a thankfulness in every small blessing that he sheds upon her

John Donne, Sermons
In reading (21) The World through the lens of John Donne, the dancing woman is the soul dancing in response to the Divine Sun, while at the same time, since it is we who are looking through the bays of eternal glory at the dancer, she takes on the form of the Divine Sophia, the Holy Spirit.
It is through the gateways of all four gospels, the Man, the Lion, the Bull, and the Eagle, that we may discern the iconography of Christ entering Jerusalem on Palm Sunday,
just, and having salvation; lowly, and riding upon an ass.

Zecharaia 9: 9
This Holy Week, then, let us open our eyes to the divinity in all things and see in the flow of life the dance of the Divine Sophia-Christ who is Lord of the Dance: