With the New Moon comes the Mo(o)nday energy of the Page of Rods. He is fiery, yet earthbound. He looks forward and takes a measure of the landscape ahead with his rod. Today is indeed a good day to pause, just as the Page of Rods has paused, and to refresh yourself and prepare for the new lunar month that is before us.
The Page of Rods suggests a new energy for this week focused on seeking improvement in our business, work or relationships. The Page of Rods, like all the pages, has a feminine, fledgling softness; the energy the page represents here is still in its potential stage, or to the extent that the work has begun already, it proceeds softly.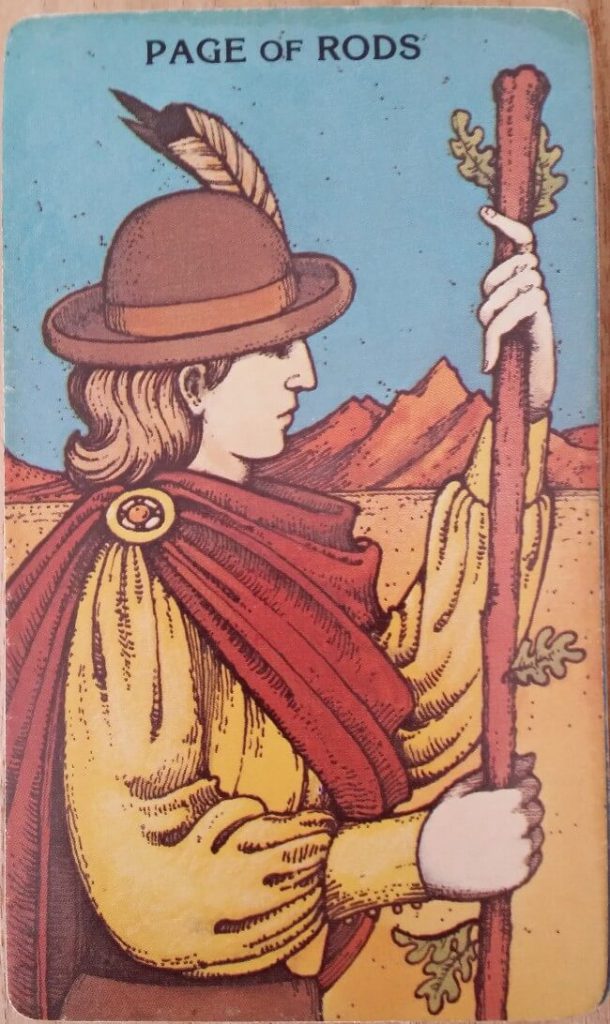 Lent Begins This Week
This week, not only does a new lunar month begin, but so too does Lent, a time when we take stock of ourselves and check ourselves by cutting out or giving up something. In my case, I stop drinking alcohol at home. That does not mean that I will be compensating by going out more often than usual! Although there are quite a few social events on the calendar during Lent, the majority of my evenings will be spent at home and the majority of days I trust will be alcohol free. So now is a good time to pause and take stock, like the Page of Rods; look ahead and get ready for the challenge of Lent!