Candlemas is the day on which all the candles which will be used in the ceremonies of the church for the next year are blessed. It is also the commemoration of the Purification of the Virgin Mary, forty days after the birth of Christ, and the Presentation of Christ in the Temple in Jerusalem.
Candlemas and The Presentation of Christ are both purification rites that also mark the midway point between Christmas (or the Winter Solstice) and Spring (or Easter, or the Spring Equinox) in the during of the liturgical season of Epiphany.
See also: https://davidhurleyinjapan.com/anglicanism/alan-watts-on-candlemas/
We observe Candlemas by displaying the Queen of Wands alongside the (17) Star, which marks the liturgical season of Epiphany, and the arcana of whichever week of Epiphany in which Candlemas happens to occur, and we chant the Adorna Thalamum and recite the Nunc Dimittis.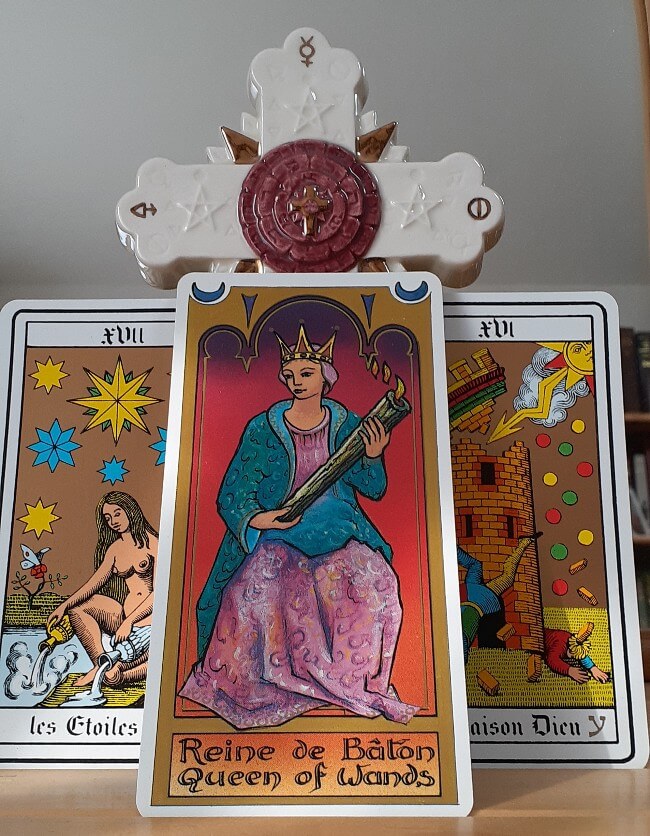 Adorna thalamum
Adorna thalamum tuum, Sion, 
et suscipe Regem Christum:
amplectere Mariam, quae est coelestis porta:
ipsa enim portat Regem gloriae novi luminis.

Subsistit Virgo adducens manibus Filium ante luciferum genitum:
quem accipiens Simeon in ulnas suas praedicavit populis Dominum eum,
esse vitae et mortis, et Salvatorem mundi.
Adorn thy bridal chamber, O Sion, 
and receive Christ the King:
embrace Mary, who is the gate of heaven:
who herself bears the King of Glory of new light.

A virgin she remains, bearing in her hands 
the Son begotten before the day-star; whom Simeon, received in his arms, 
declaring him to the people as Lord of life and death, and Saviour of the world.
Nunc Dimittis
Lord, now lettest thou thy servant depart in peace; according to thy word. For mine eyes have seen thy salvation; which thou hast prepared before the face of all peoples. To be a light to lighten the Gentiles; and to be the glory of thy people Israel.

Glory be to the Father, and to the Son, and to the Holy Ghost; As it was in the beginning, is now, and ever shall be, world without end. Amen.

Luke 2: 29 followed by the Gloria