What are you aiming to achieve today, or for the rest of this week, month or year? We are passing through the thirteenth week after Trinity in the Liturgical Year, a time when we meditate upon the descent into the Valley of the Shadow of Death, on the arcana of (13) Death itself and the example of the Good Samaritan. At the same time, each of our daily Tarot arcanae has sounded a cheerful and positive note, as if to say that in confronting the inevitability of (13) Death we can find a new purpose and meaning to the life that remains to us.
Today the Queen of Swords challenges us to develop some clarity as to what that purpose is. The upright sword represents the clarity we seek in our lives as it cuts through all distractions. The airy element of this arcana blows the clouds away, revealing a clear blue sky. The roses represent the unfolding stages of that purpose in our lives, and the thorns keep distractions at bay.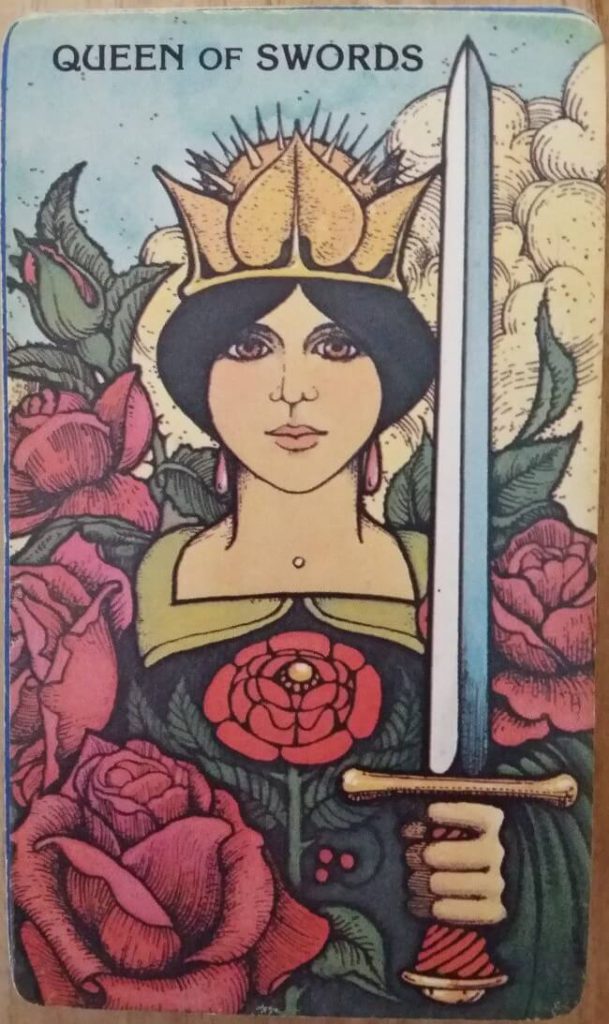 Practical Application
If you have not done so already, write down your top three goals or priorities for the last 103 days of the year, and refer to it every day. Consider the steps you will take to achieve those goals, and think about the distractions that you can cut out of your life to keep you on track to achieving those goals by December 31st.