What is the theme for how we will we show up in the world this week? The shady Seven of Swords! This is the second time our friend has turned up in the last few days. Last week he arrived with a dynamic martial air about him. This week he basks in the light of Apollo, as the solar quality of the sky and baking hot sand dunes of the Morgan Greer deck imply. The brightest sun casts the strongest shadows, so watch out this week for opportunities to apply your wits and be ready to seize them as they come to light with a peremptory Machiavellian vigour; but also beware of the shadow side of self-recrimination, or mental sabotage, or of losing sight of your true purpose.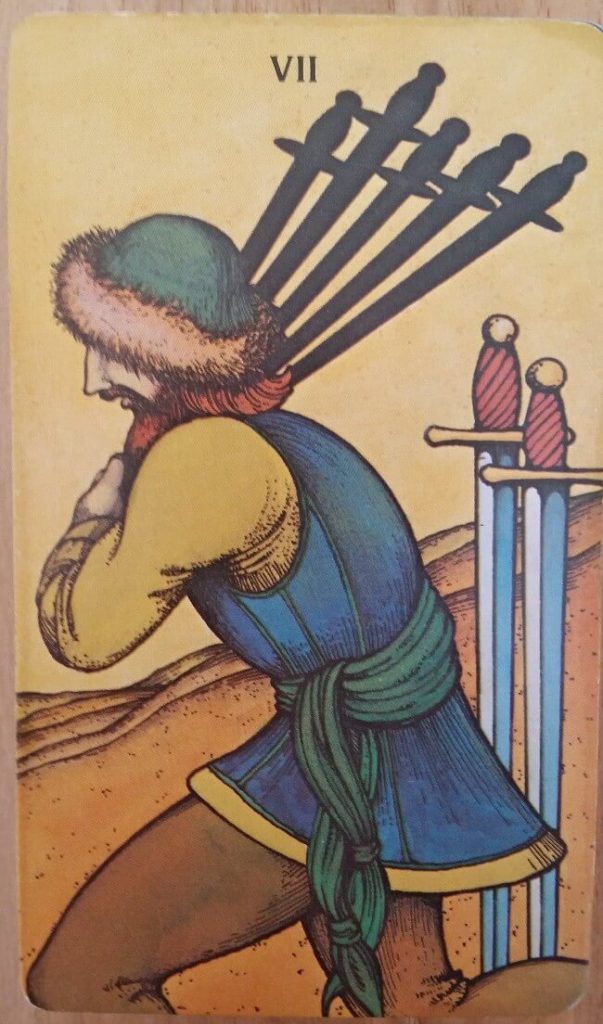 7 of Swords, Candlemas and the Half Moon
Just as the Sevens mark the halfway stage as one progresses through a suit of the lower arcana, so we find ourselves today half way between the winter solstice and the spring equinox. It is at this time that Saint Brigid's day, or Imbolc – the Gaelic festival of the beginning of spring – as well as Candlemas are celebrated. At the same time, the moon has waxed to the first quarter, or the "half moon." Thus, we find ourselves in between times and so it is a good moment both to reflect on any decisions you have made, how they have helped or hindered you. Review your progress and consider how your decision making process can help you build momentum in a constructive direction as the spring equinox approaches.