Although my outer life this Saturday was rather quieter than what is suggested in the reading of a Saturday Knight of Cups by WytchyMystique in the quotation below, there was certainly something of the darker restless energy coming to the fore in the inner world…
This knight heralds romantic activities and, with the influence of Saturn, this will be more like Heathcliffe and Catherine– without the pristine happy endings of a Disney fairytale.  The sex will be wild, unbridled, and somewhat dangerous; the fights will be rampaging with make-up sex that will take your breath away.  Romantic relationships begun at this point will be so up and down, so tumultuous, that it may not be intended to last forever– the intensity would be too much.  Take what you will from this encounter, learn and grow, enjoy the good parts, survive the bad…and move on to calmer waters, smoother encounters.

https://wytchymystique.com/tag/saturn/
Speaking of calmer waters, with the Moon in watery Pisces the dreamy side takes over from the more active side, mitigating to some degree the influence of Saturn.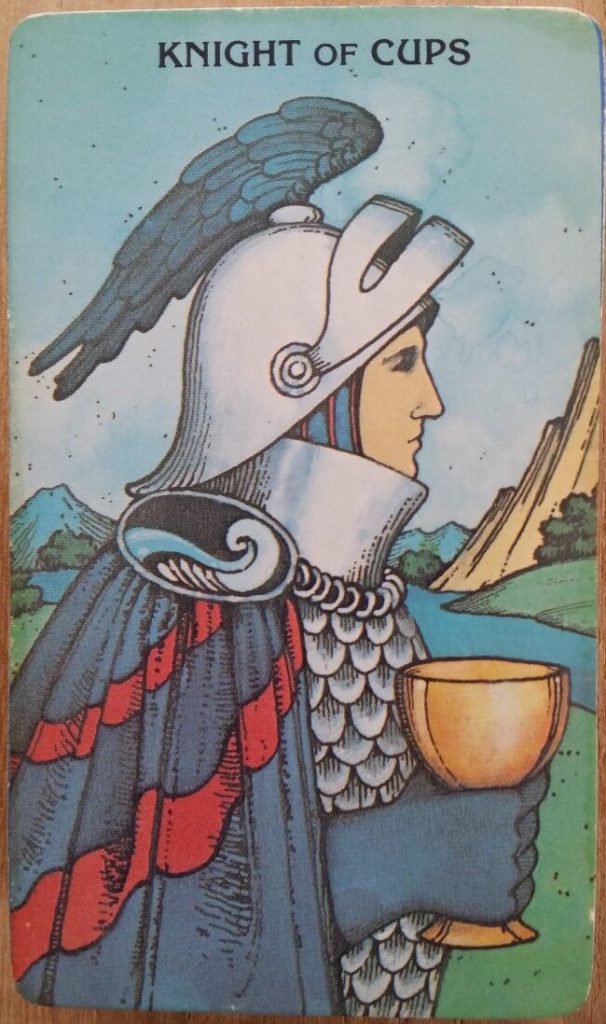 Weekly Roundup
This has been a positive and productive week, with productive and resourceful Pentacles and a lot of solar energy. Most of my energy has been poured into college teaching via the Internet as this was the first full week of the delayed spring term. It ran the gamut of teaching with (for me) new technologies of Google Classroom and Zoom – and being televised teaching with the latter, to preparing and uploading resources, dealing with students and marking homework online.
The Two of Swords, ruled by the Moon in Libra, is another card of balance, like the Six of Pentacles and the swords point to the Moon and Venus, the Queen of Pentacles, who rules our inner lives this week, and the Eight of Cups that suggested a movement towards something new, which the Knight of Cups also heralds under Saturn, bringing the week to a close with a darker restless and yearning energy.