The Five of Swords is ruled by Venus in Aquarius. Today, being a Friday, is dedicated to Venus. The Five of Swords is located on the Sephirah of Geburah, the pillar of severity and so it is also related to Mars. Thus the pacific tendency of the planetary rulership is belied by the Martial quality of the suit of swords,
dicentes pax pax et non erat pax

"Peace, peace," they say, and there is no peace." Jeremiah 6: 14
Venus moved into Virgo yesterday, which, being earthy, practical and hardworking, is not the happiest location for her. It is more about focussing on what we have control over – ourselves – but also connecting with others to work on problems and projects where improvement is called for. As Venus and the Moon – now in earthy and pragmatic Capricorn – are in trine, there is more support for this kind of activity.
Meanwhile, Mars continues in Pisces, suggesting that, in non-essentials at least, you simply "go with the flow."
Towards the end of today and continuing into Saturday, Venus will trine Saturn, suggesting that the process that we mentioned two weeks ago, that of "picking up the discarded swords" and reviewing and reviving projects that may have been neglected when Venus was in Leo, should be reviewed again. Indeed, with two arcana from the 16th week after Trinity (the 10 of Pentacles and the 5 of Swords) reappearing this week, it appears that this period of reflection may be drawing to a close.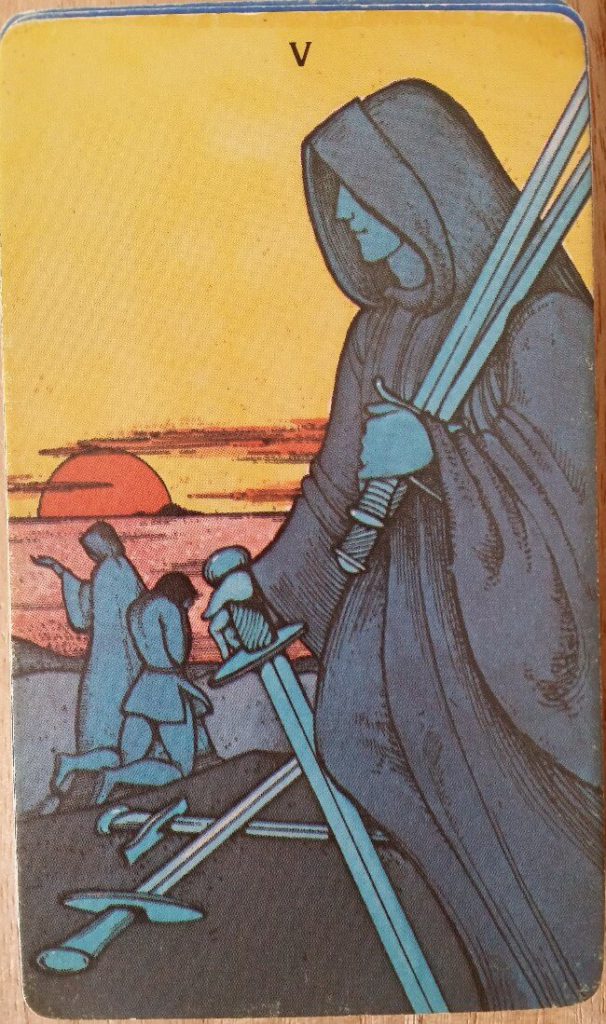 Personal Application
For my part, I have done quite a bit of "sword gathering" and reflecting on the past by reading through old diaries from university days and the first five years after graduating. This has given me a new appreciation for those times, and a deep sense of gratitude for all that I was able to experience for better and for worse in those formative years.
Affirmation
Why am I so adept at maintaining a cool head and turning any situation to my benefit?