Although Saint George's Day is usually celebrated on 23rd April, this year, due to the lateness of Easter, it is celebrated on 29th April as no feasts other than Easter are celebrated between the Octave of Easter Sunday and Low Sunday.
The Collect
O God of hosts, who didst so kindle the flame of love in the heart of thy servant George that he bore witness to the risen Lord by his life and by his death: grant us the same faith and power of love that we, who rejoice in his triumphs, may come to share with him the fullness of the resurrection; through Jesus Christ thy Son our Lord, who liveth and reigneth with thee, in the unity of the Holy Spirit, one God, now and for ever. Amen

Common Worship
Old Testament Reading
In that day the LORD with his sore and great and strong sword shall punish leviathan the piercing serpent, even leviathan that crooked serpent; and he shall slay the dragon that is in the sea.

Isaiah 27: 1
New Testament Reading
Be strong in the Lord, and in the power of his might. Put on the whole armour of God, that ye may be able to stand against the wiles of the devil.

Ephesians 6: 10-11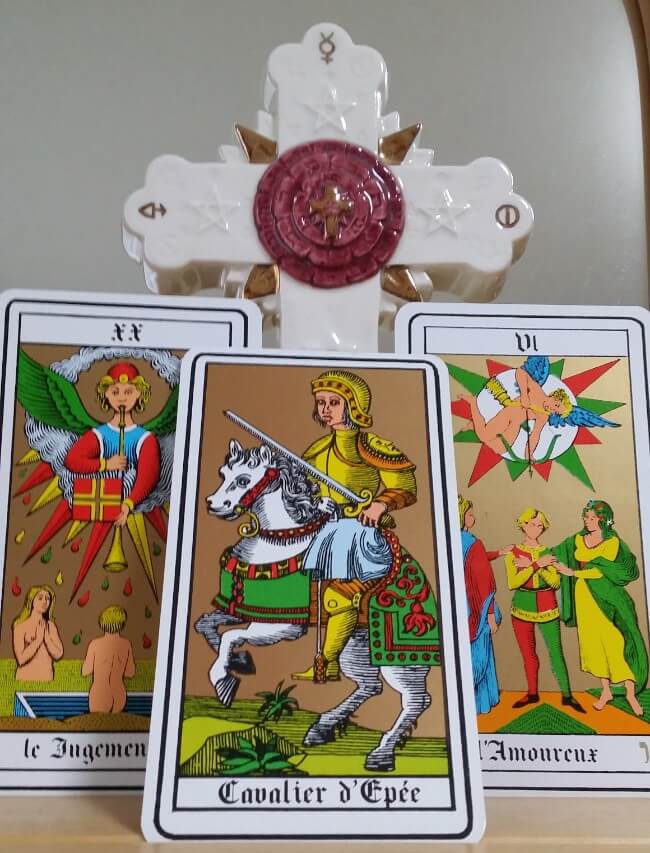 Things get rather busy on Saint George's day as we have the arcana of the Liturgical season, the arcana of the week, and Saint George represented by the Knight of Swords. There are also the Collect for Saint George's Day, placed on the facing page of the book of collects, plus the two additional readings for the day, placed on the top shelf, in addition to the weekly texts placed on either side of the book of collects. Also, on this day we read the thirteenth chapter of Icons and the Mystical Origins of Christianity, by Richard Temple, "St George and the Dragon."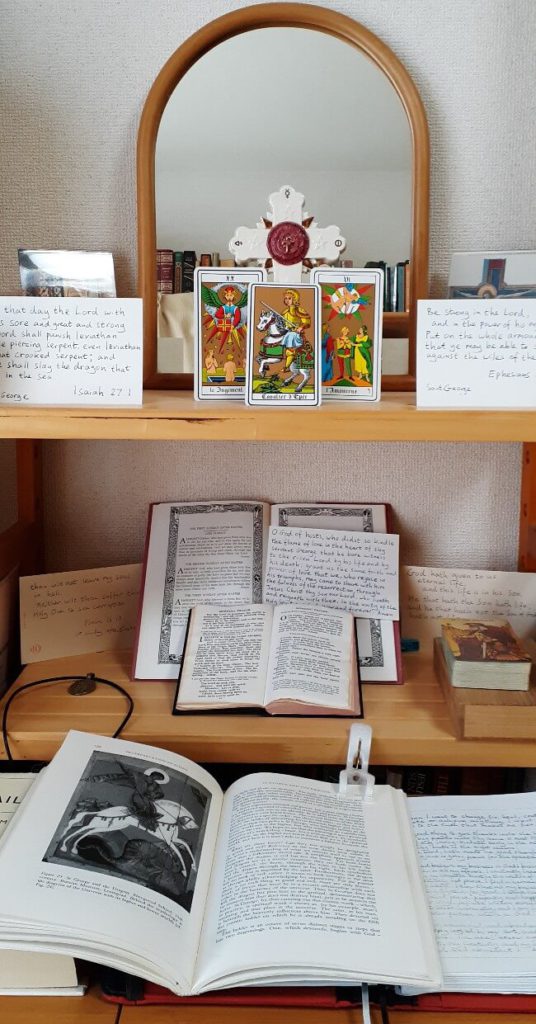 Liturgical Affirmation
Canet tuba, et mortui resurgent incorrupti.

Deus charitas est: et qui manet in charitate, in Deo manet, et Deus in eo.

Induite vos armaturam Dei, ut possitis stare adversus insidias diaboli.

The trumpet shall sound, and the dead shall rise again incorruptible. God is love, and whoever abides in love abides in God and God in him. Put on the armour of God that you may withstand the wiles of the devil.