I am surprised to see that this is the first time I have seen the (6) Lovers in the daily arcana readings since I began this blog. Ellen Goldberg refers to this arcana as a mandala of how the psyche works; an alchemical mandala which by being gazed at encourages the deep intimacy of all parts of the mind. It is also the intelligence that sets things apart and makes clear decisions.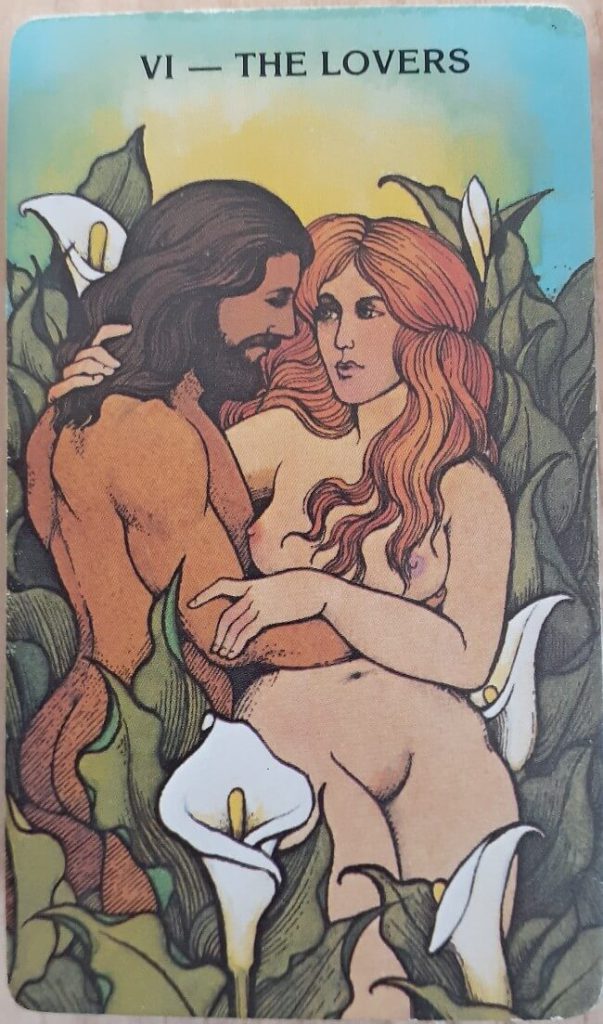 Mars is still in earthy Capricorn, providing an opportunity for acting with discipline, responsibility and healthy reserve; as Mars moves into Aquarius as the week progresses we may become more innovative in our approach to action. Venus too is in an earthy sign, Taurus, where she is at home. We shall revisit this pair, Venus and Mars, on Friday to see what has come up.
With the Moon in Virgo, the earthy and laborious, improving and routine aspects of life are emphasized quite strongly in this part of the week. At the same time, the Full Moon will be in opposition to the Sun in Aries, which is ruled by our Mars, so there is a lot of dynamism building up as we reach the culmination of the waxing moon.
The (6) Lovers are ruled by Mercury and right now Mercury is combust the Sun in thrusting Aries, giving a fiery energy behind our thoughts and communications, fiery and quite possibly scattering our thoughts as the Sun obliterates Mercury at this time. Do not be surprised if all this energy leaves you restless in your mind. Use the energy of the (6) Lovers to meditate upon how to unite that vigorous masculine power with the earth-based energy of Taurian Venus so that the intellectual energy inherent in the arcana can stay balanced and dynamic, rather than out of kilter.