The Page of Swords is the element of air grounded in earthy Capricorn and signifies a state of change in mental processes and in ideas about yourself and who you think you are. As such it is one of the most important change cards in the deck.
This week, this arcana is favoured by Mercury being in his domicile, Gemini, infusing mental aptitude with extra air energy. At the same time, Mars is in progressive (airy) Aquarius which may assist in challenging the status quo and in expressing our unique self when taking action in life.
The Sun is in earthy Taurus and the Quarter Moon is in earthy Virgo, nicely reflecting the earthy aspect of the Page. Those placements have to do with the process of refining the work that we are doing and working on personal improvement.
These processes of mental awakening also feed into the liturgical arcana of the (16) Tower and (20) Judgement this Whitsuntide.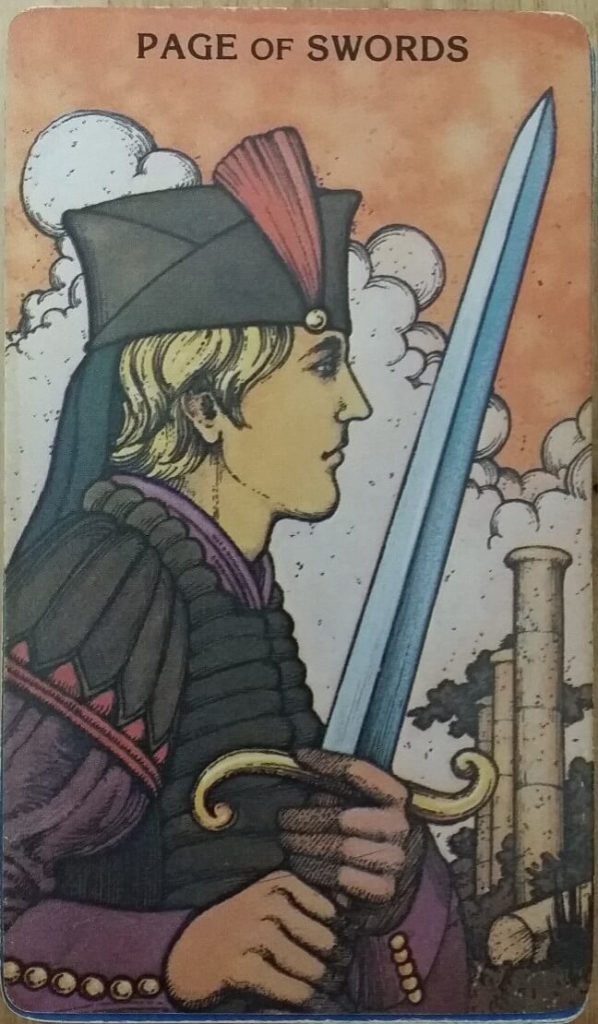 The Page of Swords and Alchemical Dissolution
The Page of Swords may also be the herald of a new cycle of alchemical dissolution. Alchemical dissolution in which,
we are plunged into the waters of the unconscious. When you are primarily driven by ego, as one is prior to undergoing your journey into the spiritual, we may have buried parts of ourselves in order to create an image of what our identity is. It is in this stage that we must unearth those parts of us – the parts of us that we have rejected – whether they are perceived faults, or painful memories, or traumatic upbringings. The water in this stage asks us to let go, and to release the structures and the systems that define our perceptions of ourselves.

Source: https://labyrinthos.co/blogs/learn-tarot-with-labyrinthos-academy/the-seven-stages-of-alchemical-transformation-a-spiritual-metaphor-infographic