How are we portioning out our resources of goods, money, attention and time? That is the question which the Six of Pentacles challenges us to consider today. It would be beneficial to contemplate that question in the light of yesterday's (20) Judgment during this eighteenth week after Trinity when the moon wanes from gibbous through the half moon to the waning crescent phase.
6 of Pentacles and (20) Judgment
Firstly, the resurrected child depicted in the arcana of (20) Judgment represents our liberation from the shackles of the past, of guilt and resentment, and from the opinions and judgments of others. That liberty enables us to give freely of ourselves, and also to forgive ourselves and others, which is in an appropriate area of focus during the phase of the waning crescent moon which we have just entered. Let one aspect of our meditation on the Six of Pentacles today be this then; to whom may I distribute my compassion and forgiveness, and what past follies do I still need to forgive myself for?
The Distribution of Gratitude
Secondly, ask yourself what can feel grateful for today. And dwell on the sense of gratitude, imagine yourself offering up gratitude as part of the redistribution of your spiritual resources, and as part of the joyful labour of "loving others as yourself" in accordance with the New Testament reading for this week. If you have the opportunity, express your gratitude to those who have positively impacted your life.
Balancing and Distributing
Thirdly, think about how you are distributing your time and material resources this week. Check to see whether there is an equitable balance or whether the scales are tipping too far in one or other direction.
Fourthly, to conclude with a more literal reading of the arcana, look out for opportunities to indulge in pre-meditated or random acts of kindness through the rest of this week.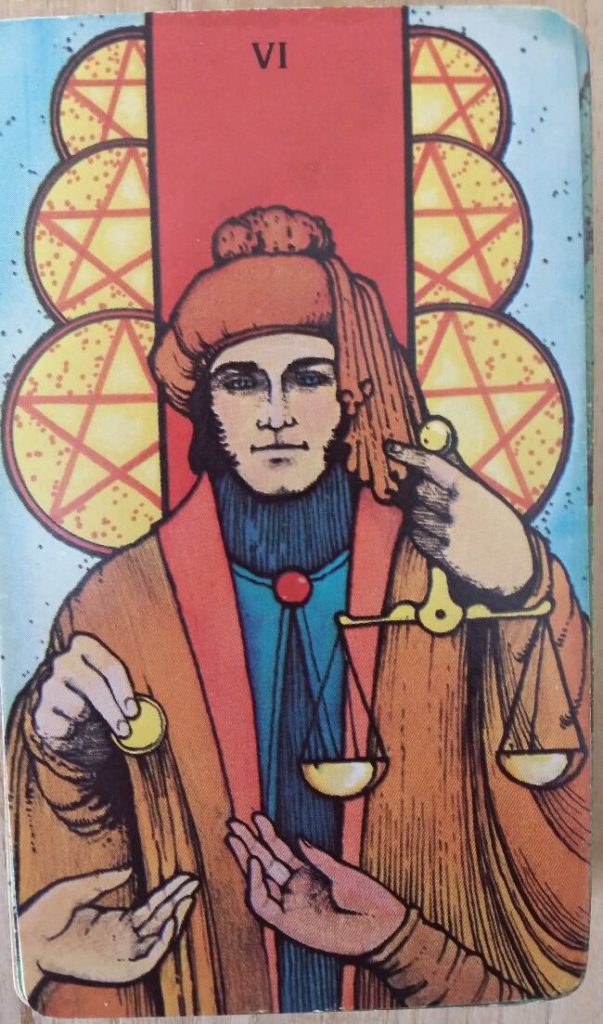 Personal Application
One thing I feel grateful for today is the safe return of my daughter from her overseas school trip to Hawaii.
This morning I cancelled a social commitment to join a mahjong party which I had made for Saturday evening so that I can spend time with my family watching the England v New Zealand rugby semi-final. My wife and daughter have suddenly become very keen on watching the world cup rugby games, and I too have become drawn into the excitement, especially as England have progressed to the knock-out stages of the competition. My judgment after consulting my wife was that it would be better to cancel my first engagement to prioritize an opportunity to spend a convivial time with my family. After all, there will be other mahjong parties I can go to, but this is the only time I can hang out with my family to watch England play New Zealand in the semi final of the 2019 Rugby Union World Cup taking place here in Japan.