The Nine of Swords, Mars in Gemini, is the arcana of mental stress, of being in thrall to the endless yapping of the mind, or, since there is a strong lunar influence on this arcana, it represents the breaking in of the shadows of the subconscious which overpower and oppress us.
Clearly there is a lot of agile mental energy in play this week with the Page of Swords expansive under Jupier and now the Nine of Swords repressive under Saturn.
Right now the Moon is in Gemini, which offers some light relief to the heaviness of this arcana ruled by Mars and showing up under the auspices of Saturn. The moon in Gemini adds humour to what might otherwise be heavy situations. Keep in mind that life is a game and you will fare better.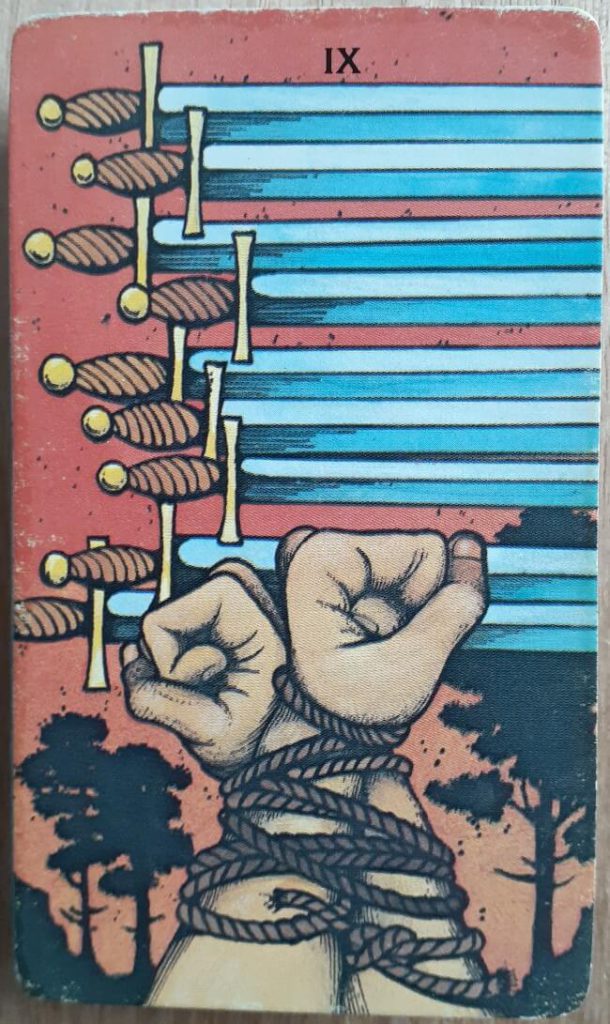 Personal Application
Looking back on this day I now realize that there was some discontent in the morning's class which boiled over into expression towards the end; the discontent was not aimed at me but was between students who had different opinions about how things should succeed. For my part, I stayed lighthearted as the moon in Gemini and simply went with the flow of the class, which was the pattern suggested by the dominant student, and was actually, not a bad way to proceed at all. One of the other students, however, felt that he was playing the role of a second teacher. I don't doubt they will have spoken about it more openly in the post-lesson meeting!
Affirmation
Why am I able to appreciate the lighter side of life no matter what?