The Ace of Swords symbolises the powerful potential that singleness of mind and purity of thought can deliver for us if articulated in the world around us.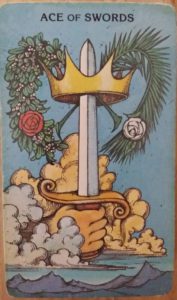 In both the Rider Waite and the Morgan Greer depiction, we see the an upright sword with a crown decked with an olive branch and palm frond.
In the Morgan Greer image, there is also a red and a white rose, just as there is a red rose and a white lily in the Morgan Greer depiction of (1) The Magician whom we encountered on Tuesday of this week.
The sword and the crown represent the Alpha and Omega; if the thought behind the action is pure, driven by love, resilient and calm when under duress, then it will be crowned with blessings.
olive = peace and reconciliation
palm = victory through resilience and sacrifice
red rose = love
white rose = purity of spirit and sympathy
I like Trevor Thorkelston's chat about the Ace of Swords in this video as it was made in March and so Trevor ties it into the awakening of spring.
When you have the Ace of Swords in a reading it's oftentimes a sign of your ability to analyse, good decision making, problem solving – and here's another word, articulation: how we put our thoughts into words and into actions. So it is that sense of making a statement.

You'll see on the card that there is a crown and it symbolises and sense of victory, so this can be an important time in terms of articulating ourselves and making a statement to the world around us.

Trevor Thorkelston
Personal Application
This week I have been concentrating on creating video and written content for my online business and blogging platforms. The 5 of Swords flanked by the (1) Magician and the Ace of Swords offers an emphatic reminder that by staying focused on "one thing at a time" with passion and clarity will reap rewards further down the line.